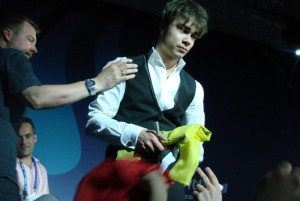 Much interest in the voting for this year's Eurovision Song Contest centered on the introduction of juries in each country to vote alongside the public phone vote.
The EBU have now released the scores of the juries only. Had the voting been on the basis of the jury votes only, Norway would still have won easily and Iceland would have remained in second place. The United Kingdom would have been third instead of fifth (damn, I had an each way bet on the UK! – Ed). One of the biggest losers would have been Azerbaijan, who would have dropped from third to eighth. One of the biggest beneficiaries would have been Malta, who would have finished 13th instead of 22nd.
1.      Norway (312 points)
2.      Iceland (260 points)
3.      United Kingdom (223 points)
4.      France (164 points)
5.      Estonia (124 points)
6.      Denmark (120 points)
7.      Turkey (114 points)
8.      Azerbaijan (112 points)
9.      Israel (107 points)
10.    Greece (93 points)
11.    Moldova (93 points)
12.    Bosnia & Herzegovina (90 points)
13.    Malta (87 points)
14.    Germany (73 points)
15.    Armenia (71 points)
16.    Ukraine (68 points)
17.    Russia (67 points)
18.    Portugal (64 points)
19.    Croatia (58 points)
20.    Lithuania (31 points)
21.    Romania (31 points)
22.    Sweden (27 points)
23.    Albania (26 points)
24.    Finland (12 points)
25.    Spain (9 points)
Svante Stockselius, Executive Supervisor of the Eurovision Song Contest on behalf of the EBU, said to Eurovision.tv: "We believe it was the right time to introduce this new voting system, and it is fantastic to see that both televoters as well as professional juries massively backed the same contestant. Some finished higher because of support from the juries, others finished higher because of support from the televoters across Europe. It also made the presentation of the points less predictable, despite the overwhelming support for Alexander Rybak's entry."