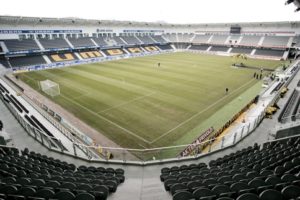 Though it has previously been announced that the Telenor Arena has been pre-booked in relation to the 2010 Eurovision Song Contest a heated debate is now taking place in Norway. 1996 arena Oslo Spektrum is mentioned as well, while other cities argue that they deserve it more than the capital.
After Alexander Rybak Saturday won the Eurovision Song Contest and secured Norway the host role for 2010 the Nordic country is discussing in which city the 2010 contest should be held. Oslo is the most obvious choice with two good candidates; the newly build football stadium Telenor Arena that has a capacity of 20.000 in relation to concerts or the arena used when Norway hosted the Eurovision Song Contest in 1996, Oslo Spektrum, which is also where the Norwegian final traditionally is being held. Oslo Spektrum has a capacity of 8.000 seated audiences.
 
Other cities are however offering to host the 2010 contest as well. Possible candidates outside the capital could be Tromsø, Bergen, Hamar, Lillehammer, Stavanger, and Trondheim.  Music journalist Arild Rønsen is however quite clear when he argues that it can only be the capital, Oslo: All debates about such events in Norway turns into a geographical fight, but now it is about time that we realise that we have a capital. There is a reason a lot of people lives in Oslo and Oslo Spektrum is build for exactly this type of events. He adds that Putin didn't put this year's Eurovision Song Contest in Siberia or Vladivostok!
 
This has however made the other cities quite upset and they insist that NRK takes them into consideration as Norway is a more than Oslo. At the end it is NRK as the host broadcaster, who will be suggesting a venue, which EBU's reference group will then decide upon. Broadcaster chief Hans Tore Bjerkaas says that It is a difficult event, which has grown significantly since Norway hosted it the last time (1996, EDT.) There is a lot of new countries in it and there is now two semi-finals. There are therefore only few locations in Norway who can handle such events. He expects that a decision will be taken quite soon.
Norway's Minister of Culture is expecting a budget well below this year's record from Moscow. He is thinking of a budget of 150 million NKR. In comparison the 2009 budget was at 280 million NKR.