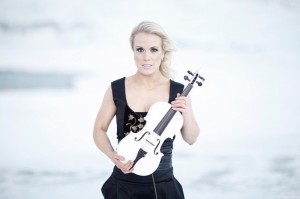 After her Eurovision participation alongside Jónsi with the song Never Forget, achieving 20th place in the final for Iceland, Greta has been actively working on her debut album as a composer, singer and musician. It is scheduled to be released next fall but for now, we can listen to her first single
Greta Salóme, who was one half of this year's Eurovision Song Contest representatives from Iceland, has just released her debut single as a solo artist and she goes for success with a composition of her own titled Everywhere Around Me. The song is produced by the renowned Þorvaldur Bjarni Þorvaldsson, who also worked with former Eurovision Song Contest runner-up Selma, and both lyrics and music were written by Greta herself.
This song is quite different from her Eurovision entry Never Forget. It is very much upbeat but it has also a mysterious tune thanks to the sound of heavy drums and strings. She has the impressive ability to merge a melodic hook with lyrical substance which conveys a meaning to the listener and the end result being a song that is top-notch.
Listen to the first single of Greta Salóme's Everywhere Around Me below: