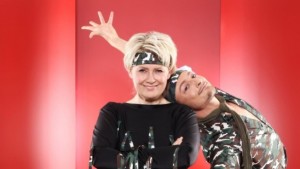 Danish singer Gitte Hænning, who represented Germany in the 1973 Eurovision Song Contest, has had to leave the TV programme Let's Dance, which is the German edition of Strictly Come Dancing. Her sister sadly passed away Monday and Gitte has chosen to be with her family in Denmark in this difficult time.
After three successful dances in Let's Dance Gitte Hænning unfortunately had to leave the TV programme. Gitte says that she really enjoyed dancing together with her dancing partner 27 year old professionnel dancer Gennady Bondarenko, but that the it was the right decision to stop: "It has been fun to participate in the TV programme, but now I can't or won't be in the show anymore. I want to be with my family in Denmark".
Gitte's sister passed away early Monday after being sick with cancer for a longer time. As it was clear that it was over soon Gitte flew home from Berlin immediately and managed to say goodbye to her sister. She has afterwards chosen that she wants to spend some time with the family through this time, despite having to leave Let's Dance.
Despite representing Germany in the 1973 Eurovision Song Contest with the song Junger Tag and having lived in Germany for many years Gitte is pure Danish. In 1962 she should have participated in the Danish final, Dansk Melodi Grand Prix with the song Jeg Snakker Med Mig Selv, which was disqualified as someone was humming the song outside the studio, which was against the rules. The single afterwards became such a big hit that it is very likely that it would have won the Danish final. She was then suppose to sing the Tommy Seebach's Disco Tango in the Danish final in 1979, but bailed out at the last moment and Tommy then had to sing the song himself. He won the national final and came 6th at the Eurovision Song Contest. Gitte's version of the song has never been released, but you can hear her 1973 entry for Germany below and also the 1962 disqualified entry.
Strictly Come Dancing is a popular TV programme broadcast in many countries where celebrities compete on dancing skills together with each their professionnel dancer. Last year we saw 1969 Eurovision Song Contest winner Lulu in the British edition.