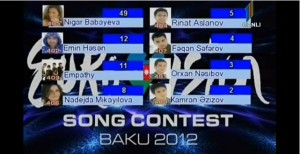 Host country Azerbaijan continues with the 4th heat of its national selection, Milli Seçim Turu. Another group of nine participants will try to follow the previous semi-finalists Orhan Kerimli, Meryem Kerimova and Hayyam Mustafazadeh. One from last year's Milli Seçim Turu, Group Emphaty, will give it another try in Azeri selections this year too.
The Azeri selection carries on with the same format this week as usual. As it was in the previous heats, the fourth heat will continue for 5 days and another nine participants will be fighting to be the winner of the week 4. The format will be followed as:
•    Monday: World Hits
•    Tuesday: Azeri Music
•    Wednesday: Eurovision Hits
•    Thursday: Performance Day
•    Friday: Participants' Choice
The broadcaster İçtimai TV also sticks with the same hosts, Hüsniye Maharramova and Leyla Aliyeva, who presented the previous three weeks. This week's participants are announced as; Orhan Nesibov, Emin Hasan, Group Empathy, Renat Aslanov, Nigar Babayeva, Nadejda Mikayılova, Feqan Seferov, Kamran Azizov and Rana İmamaliyeva. However, Rana İmamaliyeva was withdrawn before the fourth week began. In the first show, the contestants showed their skills on their favourite World Hit and their choices were:
•    Orhan Nesibov – Shape of My Heart (by Backstreet Boys)
•    Emin Hasan – Feelings (by Albert Morris)
•    Group Empathy – Wish You Were Here (by Pink Floyd)
•    Renat Aslanov – I Love You Baby (by Gloria Gaynor)
•    Nigar Babayeva – Love You Like a Love Song (by Selena Gomez)
•    Nadejda Mikayılova – The Show Must Go On (by Queen)
•    Feqan Seferov – Nebo La Ladoni (by Soso Pavliashvili)
•    Kamran Azizov – Mi's toboy Mechtateli (by Dima Bilan)
After these choices and performances, the scoreboard of the first day was shaped as:
Nigar Babayeva – 49 votes
Emin Hasan – 12 votes
Emphaty – 11 votes
Nadejda Mikayılova – 8 votes
Renat Aslanov – 5 votes
Fiqan Seferov – 4 votes
Orhan Nesibov – 3 votes
Kamran Azizov – 2 votes
Rana İmamaliyeva -WD
The fourth heat in the Azeri Milli Seçim Turu will continue with its second day and the show will start at 18.00 CET (21.00 with local time) and will of course be aired by İçtimai TV via satellite and web. 
Below you can find the previous editions of the Azeri Milli Seçim Turu:
1st heat: Orhan Kerimli
2nd heat: Meryem Kerimova
3rd heat: Hayyam Mustafazadeh