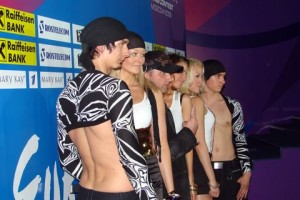 For the second week in a row the Finnish single top20 features four of the entries from the newly held Eurovision Song Contest. All of them have suffered a little drop though compared to the first week where three of them were placed as second, third and fourth.
The 2009 Eurovision Song Contest winner Alexander Rybak went straight into the Finnish single top20 as #2. In the second week he dropped down one placement to being third. Icelandic Yohanna, who came second at the Contest in Moscow, was last week number four. She fell two positions to this week's #6. Urban Symphony representing Estonia with the song Rändajad also joined the Finnish chart last week. They entered into a 10th place, but have dropped down to now being #14.
The situation is a little bit different for the fourth Eurovision Song Contest entry as that is Finland's own Waldo's People. Their song Lose Control came last at the final in Moscow with only 22 points, but this hasn't affected its popularity in the home country although they dropped five positions from being third last week to #8 this time. They have however been on the list for 23 weeks now.