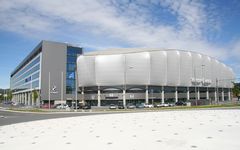 NRK, the host broadcaster for the 2010 Eurovision Song Contest, announced today that the 15000 capacity Fornebu Arena will be the venue for the contest.
The arena, which only opened in February this year, is the largest indoor stadium in Northern Europe. Officials from NRK and the arena have signed a pre-contract agreement.
The reference group for the Eurovision Song Contest from the EBU will formally approve the choice of venue when they visit Oslo in September, although it is unlikely that anything will change. Svante Stockselius, the EBU's Executive Supervisor of the Eurovision Song Contest said, "I believe NRK made a good choice by picking the Fornebu Arena as the location for the 2010 Eurovision Song Contest. It's brand new, equipped with the latest technologies and seems to meet all requirements to host Europe's favourite TV-show."
Hasse Lindmo, producer of the 2010 Eurovision Song Contest is also happy with the choice of venue, "We believe this is a good solution. Fornebu Arena is constructed to host major events – and this is definitely a spectacular event. This choice secures superb conditions for the production. Factors such as size, outdoor space and other production facilities have been important in the decision. It feels great to start summer vacation knowing we have the best possible starting point for the huge job ahead of us."
The 2010 Eurovision Song Contest will be held in the arena on 25th, 27th, and 29th May