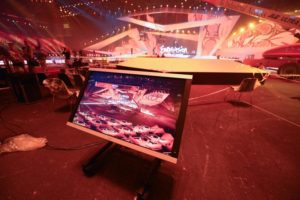 Europe's biggest event, the Eurovision Song Contest 2012 has started with the first semi-final in Baku's Crystal Hall this evening. Eighteen countries have participated in the first battle for the final where only lucky ten countries could make it to Saturday evening.
The biggest event in Europe's television history, the Eurovision Song Contest, is being held for the 57th time in the capital city of Azerbaijan Republic, Baku. Thousands in the hall and millions in their home, pubs and where-ever you can imagine, were watching the show this evening. Don't worry if you missed the show today, there are two more shows ahead (second semi-final and final) this week.
The show
The show officially started at 21.00 CET with the presentation of İçtimai TV hosts Leyla Aliyeva, last year's winner Eldar Gasımov and TV reporter Nargiz Berk-Petersen. Leyla was wearing a long black dress whereas Nargiz dressed in red. Eldar wore a black suit.
In the postcards, we were informed of the nature of the land of fire. By the time the voting lines had opened, we had a chance to feel the pleasure of witnessing some stunning Azerbaijani dancing and music, too!
The songs
1) Montenegro: Rambo Amadeus – Euro Neuro:
Rambo (real name: Antonije Pušić) who opened the show tonight, is a celebrity in his country Slovenia and also its neighbour Montenegro. We started with a strange performance: There was a huge Trojan donkey model on the stage with three backing dancers. At one point in the performance, the dancing boys opened a banner writing "Euro-neuro monetary break dance" on it in German. Two of the dancers wrapped another dancer with that banner and carried him away. The song has an interesting sound and sometimes being different is a big plus in the contest. But this difference would be bringing him less chance of qualifying tonight, plus Montenegro has never succeeded to qualify to the finals before.
2) Iceland: Greta Salóme & Jónsi – Never Forget:
Iceland is back in the contest with another duo this year, Greta and Jónsi. We have seen Jónsi in İstanbul 2004 and he was singing a ballad, Heaven. This time, things don't seem to have changed as the song Never Forget would be considered as a dramatic ballad. But he and his partner Greta were singing more like an up-tempo act. The background was almost picturing the climate of Icelandic mountains in light blue and white motion, though they gave us a warm performance. They sang in good harmony where Greta was also playing her violin and there was absolutely nothing left to do for qualifying. Europe would never forget their performances at all.
3) Greece: Eleftheria Eleftheriou – Aphrodisiac:
Eleftheria was third singing on the stage tonight with her very up-tempo song, Aphrodisiac. There were two male and two female dancers with Eleftheria on the stage and they were wearing very skimpy glittering dress. The song has some Greek instruments and the choreography fits very well. Tonight, Eleftheria seemed to have fixed all the sound problems that she faced in the rehearsal. That performance would bring Greece another final qualification.
4) Latvia: Anmary – Beautiful Song:
Latvian representative Anmary was born in a distant 1980 when the Irish Johnny Logan won – actually she says so. Everything – the dresses, the background image, the atmosphere – was so colourful on the stage and Anmary and her four backing singers were dancing around all the 3 minutes long. It was hard to imagine which result she would get, but it was easy to see that they were enjoying tonight.
5) Albania: Rona Nisliu – Suus:
When it comes to Albania, the Balkan star was all alone on the stage, with that powerful voice she wouldn't need anyone either. Rona was wearing a long dress which had a "Dracula" collar in black and red.  The dark and reddish atmosphere made everything classical and Rona put in a simply amazing performance. The ballad, Suus, was performed all in Albanian.
After the Albanian entry, we went to a commercial break…
6) Romania: Mandinga – Zaleilah:
Only a good up-tempo song would change the mood after such a powerful ballad and Mandinga managed this very well. Everything was synchronised on the stage: There were two guys with drums and two guys with trumpets, a guy was playing the harmonica. The reddish atmosphere turned to orange and we were able to see even on television that people were dancing around with the song. Unfortunately, Mandinga was faced with earphone problems where she sounded out of tune a bit. Besides, the song would do very well in the final if qualifies tonight.
7) Switzerland: Sinplus – Unbreakable:
The first rock entry of 2012 Eurovision Song Contest was performed by Swiss group Sinplus tonight in the first semi-final. The background in blue, red and green stripes flashing suited well to this up-tempo entry and the pyros were looking fine. The group seemed to be energetic on the stage where the lead singers were moving and jumping around. The lead singer sang superbly like in an mp3 file and that would surely bring another final berth this year?
8) Belgium: Iris – Would You?:
A young girl, Iris, was representing Belgium tonight in the first semi-final. The song, Would You, is a ballad where a boy is questioning about his love. Iris in her cream coloured dress and with three female vocalists behind in black dresses gave a respectable performance. Belgium should feel very proud of her.
9) Finland: Pernilla Karlson – När Jag Blundar:
A beautiful women, Pernilla, and a cellist came together to perform another ballad tonight. Firstly the duo seemed a bit alone on such a big stage but later we realised that Pernilla's dress with a long fabric behind was about the fill the blanks. We actually saw the same dress in the rehearsals but she was hiding the top with a black sweater. The atmosphere was reddish with the flashes and fireworks which also added some extra depth to the stage. The song was pure ballad and performed perfectly.
10) Israel: Izabo – Time:
We all wait a whole year to watch the contest but it only takes three shows in a week, don't we feel down by the time it finishes? This song may be a way to express your feelings in an alternative style. The Izabo guys performed a great up tempo song, Time. There was a male lead singer, a woman on keyboard, a guy on drums and a guy with a guitar. There were a couple in the corner of the stage as backing singers who were kissing at the end of the song. Some clocks were also shown on the LED screen behind, which was very effective on the performance.
11) San Marino: Valentina Monetta – Social Network Song (Uh oh oh):
One of the smallest countries in Europe or maybe in the world, firstly attempted to participate with a commercial title Facebook but this attempt later was declined by the organisation committee due to break of the rule concerning commercial lyrics. Then the song title changed to Social Network but this certainly didn't make the song less commercial tonight. Valentina and her backing singers were at the stage in front of laptops and dancing around. Everything was in blue and white that makes everyone thinking about Facebook as the profile pictures were shown in background screen. Would they break the duck and qualify to the final for the first time in Sammarinese history anyway?
12) Cyprus: Ivi Adamou – La La Love:
We all heard about the ancient Greek that's been mostly lived in Ionia and sometimes we see its symbols on some Greek stages (Please all remember Athens 2006…). Tonight this tradition was able to be seen on the Cypriot stage with Ivi's up-tempo act. There was a platform which looked like a stone and Ivi with her female dancers were moving around to have the viewers 'la la love'. Would they give much love tonight?
13) Denmark: Soluna Samay – Should've Known Better:
Should have they known better? Yes, Danes always know how best to perform in the Eurovision Song Contest finals as they make a big rehearsal by holding historical Dansk Melodi Grand Prix each year. Tonight we have seen Solunay singing with her guitar and a cellist, a contrabass player, a drummer, a keyboard player and a backing vocalist were supporting her and they gave a respectably faultless performance and they got huge applause coming from the audience at the end. That would be the signs of another good year for Denmark as they have reached to some top places in recent years.
14) Russia: Buranovskiye Babushki – Party for Everybody:
Stoves burned and dough spread: It's time to party. Age doesn't matter to feel the passion of love in this world as our six grannies proved very well. Maybe they were too old to be energetic and dance around but for sure everyone has cheered up and partied tonight! They would have the sympathy votes around Europe. Meanwhile Russia has never failed in the semi-finals.
We went to another commercial break after grannies' performance…
15) Hungary: Compact Disco – Sound of Our Hearts:
We are back to 80's electro pop with the Hungarian group Compact Disco who performed Sound of Our Hearts very well. A female backing singer added to vocals which brought some depth to the sound, which was a positive inclusion. The guitarist and the singer used some catwalk moves through the song and the background image looked fine. Hungary can be proud of this faultless performance no matter which result they get tonight.
16) Austria: Trackshittaz – Woki Mit Deim Popo:
Two rap singers Luka Plochl aka G-Neila and Manuel Manix Hoffelner aka Mogen came together to show the new sound in Austrian music tonight. Their act was performed in a pop-rap style. As you can imagine from the title of the song, there were three girls shaking their 'popos' with the pole dancing. There's nothing wrong with the interaction between the energetic pair and their dancers, this looked fantastic on screen and this would give another chance to shake their 'popos' in the final too!
17) Moldova: Pasha Parfeny – Lăutar:
Would Pasha's trumpet give him a final ticket tonight? We saw a good performance coming from Moldova on the stage where Pasha and the brides from Moldovan national selections were having a duel. Nothing in the choreography was changed from that event except the dresses as our 'brides' were wearing some colourful dresses tonight. Everything was synchronised and the performance didn't look bad on screen at all; Pasha had a huge applause in the arena, too.
18) Ireland: Jedward – Waterline:
Last year's energetic twins were back again this year. Their hairstyle, their movements, their choreography all together made the closing unforgettable tonight. As the song is titled Waterline, the background image was water, of course and we were even able to see a fountain added to the choreography. There was a surprise for us coming from the twins: As we have been fond of their interesting hairstyle last year, we now know how it looks when it gets wet and loses its shape.
Results
The committee of the European Broadcasting Union set some rules for the contest to make it more interesting and brought back the jury voting in 2009 and since then the results are being combined 50/50 jury and televote for each show separately.
In the first semi-final today, the eighteen participant nations, plus two of finalist big 5 countries, Spain and Italy and also host country Azerbaijan's choices were decisive. The first ten countries have qualified to the final, but they're announced in a random order:
# Romania
# Moldova
# Iceland
# Hungary
# Denmark
# Albania
# Cyprus
# Greece
# Russia
#Ireland
The second semi-final will be held on Thursday, May 24th – starting at 21.00 (CET).