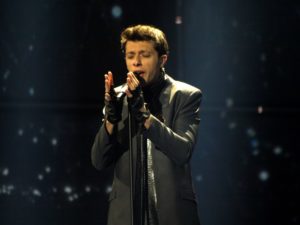 Today saw all the artists competing in the first semi-final not only rehearse for the second time, but also have their first press conferences. In previous days, there had been 'meet and greets', but today was the first opportunity to question the stars of the show properly.
Kicking things off the conference room was Aram Mp3 from Armenia. Talking about his song, he said, "It's a ballad, but we have dubstep and a symphonic orchestra too. So let's call it symphonic dubstep" he is one of the bookies favourites to win next Saturday, "It's a great pleasure and a huge support to have this feedback. Of course, it causes a little tension but all in all, I enjoy the feeling."
The Latvians admitted that they are having a few problems adjusting to all the cameras as they like spontaneity in their performance and they have to consider so many things while they are on stage, including the audience in the arena.
Estonia's backing singers are not visible on the stage. Why is this? "I am very grateful for having them there but the reason you cannot see them because we wanted to tell the story of two people in the performance. They are also very experienced having been to Eurovision a few times before. This is my first time" Very present on the stage is dancer, Argo Liik "He has been throwing me around the stage for ten years. We have had some accidents together: I kicked him in the face one and I had concussion"

Sanna Nielsen is finally representing Sweden after many, many years of trying. How did she manage to keep going? "The music kept me going. I love this event, been a follower since I was a kid when Carola won in 1991. It's fascinating!" is it worth it so far? "I'm so pleased and I finally got to wear my beautiful dress. I'm so happy with how everything went on stage. We had a few changes with the pictures and the lights, but it's almost there now. It's super fun to perform here. It's not difficult as I'm used to stand on a stage and perform. The only difference is the atmosphere, that I'm finally here. The stage is beautiful, it looks like a diamond. But for me it's so dark, with the water surrounding… that it's like magic".
It's all about the message and not the result for Pollaponk from Iceland. "We don't think about our chances, but about spreading our message."
Albania's Hersi thinks everything is going in the right direction, "The first rehearsal was good, the second was amazing" She has experience as an opera singer, "I'm a different person when I sing opera and when I sing pop. Of course I am both though, so maybe I'm bringing a bit of opera music to Eurovision this year"

Having won the Junior Eurovision Song Contest in 2006, the Russian twins were asked what the difference were between the two events, "The 'grown up' Eurovision Song Contest is much more complicated a more serious step. We feel a great responsibility because we represent the whole of Russia, but we have always hoped to get on this stage. And we are very happy to be here"
The Moldovan singer, Cristina Scarlat explained the connection between her dress and the song, "My dress is half warrior – you have to be a warrior to survive in our times – and half emotional. Wild Soul is about powerful women"
In the Azeri conference, singer Dilara revealed her enthusiasm for animal rights. She has just released a line of merchandise from which all proceeds will be donated to Azerbaijani animal welfare organisations.
The Belgian song is one for mothers everywhere. How does Axel's father, feel about this, "My father is very proud, as I sing it for all people, brothers and sisters. I sing with my heart." He has a dancer with him on stage. "It is great we have a connection and a chemistry, and Axel finds it important that I am here, and for deaf people it is an interpretation of the song, and elevates it differently." she told the conference.
Inevitably, Ukrainian singer Mariya Yaremchuk was asked about the unstable situation in her country, "Every Ukrainian was very shocked. I even couldn't concentrate on my work. But you know music lives and I hope Ukraine will start a new page!"
Valentina Monetta is singing for San Marino for the third time and she is feeling good, "I just think about my message in the song. I feel really positive about it and I want you to feel that too." Will she be back next year for a fourth time? "Maybe I will write a song for another artist. I think I will let other singers experience what I've done"
Sergej from Montenegro is happy to be at the contest. "My career is 15 years long, but I am happy for some new experiences." He is one of the acts singing in his mother tongue, "The song is much stronger in my language. Everyone is singing in English, so I wanted to do it differently. And this year we don't have Croatia, Serbia, Bosnia-Herzegovina, so I feel I am representing them too. Furthermore, we have backing singers from Croatia too, so I am very happy to have such an international team." Explaining the presence of an ice-skater, he said "Jovana is the sun – Montenegro has 250 days of sun per year – she is bright, she is warm."
The Common Linnets from The Netherlands seemed very popular, being cheered on their arrival in the press conference. They were asked how their rehearsal had gone. "It went very well. After the first rehearsal we had some comments about the graphics and they changed everything. It was everything we could wish for. The production here is wonderful". There was what could be interpreted as a dig at the many over the top presentations this year, "our performance is definitely just about the music". 
Are the Portuguese ready for the contest after being absent last year? "We are ready. Well, we have to be ready. We cannot change a lot as the 6th of May is just around the corner. Of course we are ready to go to the Final, and it would be great if Portugal could manage that this year". These days, many countries choose to sing in English and Suzy explained why she will sing in her native Portuguese, "When Eurovision started everyone used to sing in their own language. I know it is more understandable in English, but with this song it goes beyond language because.. such a happy song, so energetic, so happy, so up-tempo makes you want to dance. And I think the UA UA UÉ is universal. Anyway it has a very positive message. It is about unconditional love, pure love, not expecting anything in return".
The Hungarian song is about domestic violence, in particular towards a child. What has been the reaction to this? "People came up to me with tears in their eyes and said thank you!"  He was also asked who his idol is. ""My idol is my father. I always wanted to be like my father."