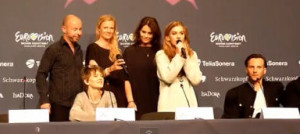 The fifth day of rehearsals also saw the acts competing in the first semi-final on Tuesday meet the press for the first round of press conferences. All sixteen countries should have given conferences today. However, the Moldovans cancelled their conference to express their unhappiness with the production.
Before the delegations held their conferences, the organisers of the contest spoke to the media. Predictably, the subject of the changes to the drawing of the running order came up. Executive Supervisor, Jon Ola Sand emphasised that the decision was not made by SVT, but by the EBU reference group and endorsed by the television committee of the EBU to improve the viewing experience of the show. We learned that the new rehearsal schedule has proved successful and will continue for the foreseeable future.
Slovenia swapped places with Austria and took to the stage first. In her conference, American born Hannah was asked if her progress is being followed at home. She doesn't know. She is an experienced performer and thinks that the Eurovision stage is different to any other she has performed on due to its sheer size. Estonia's Birgit Õigemeel was happy with her second rehearsal but felt that some camera angles need to be changed. Of her outfit, Birgit said, "I have my lucky shoes here because I wore the same shoes when I won in Estonia. The dress is huge but I like it and I'm confident that nothing will happen."

Natalia Kelly from Austria is a former winner of the Austrian version of The Voice. Did she think this helped win the Austrian final? "Every experience influenced how I got here, so it did help" how does she feel about opening the show? "I've heard different opinions about. Some were telling me that it's not good. But actually for me it's a big honour. We are going to enjoy it, hopefully others as well."

Questions were asked in the Croatian conference about the scaled down selection process this year. The Head of Delegation said that he hoped that they hope to have a final next year if the recession is over. Denmark's Emmelie de Forest is said to have connections to the British Royal family. She said that these things aren't easy to prove but geologists have managed to do so. She was also asked about being the favourite. "I take it as a compliment. It means that many fans and bookmakers liked our song, and that can only be a good thing! It mostly inspires me rather than terrifies me".
At the Russian conference, Dina Garipova was asked about her hopes and fears. "I have no fears. I try to enjoy every moment because these moments will never come back. I just don't want to be afraid of anything." At the rehearsals, all artists are supposed to wear what they will wear on Tuesday" However, Dina said "I have no fears. I try to enjoy every moment because these moments will never come back. I just don't want to be afraid of anything."
Ukrainian singer, Zlata Ognevich said, "We changed it not just a little bit, we changed maybe 50% of the song. I much prefer the final version. The song uses a very old melody – Mikhail Nekrasov wrote the song when he was only 13 years old. Parts were composed back then, first even in a fantasy language. In its arrangement ethnic sounds from several cultures are used." Zlata then performed an accappella version of the song.
The Dutch were one of the first countries to choose their singer for the 2013 contest. Anouk was asked how it came to be. She replied that she saw the highlights of the 2012 contest and asked to be the 2013 singer. She was also asked what the song means to her. "I want the audience to find their own feelings about my song. I don't think people want to know my feelings about the song. This adds to the mystery surrounding the song."
"This rehearsal was much better, we were more concentrated, but we were also sweating more" revealed Who See from Montenegro. They will be dressed as astronauts for their performance. Why? "We all dream about being astronauts when we are kids. In this case we wanted to have a party in the space." Next to enter the conference room was Lithuanian singer, Andrius Pojavis, who told journalists his song, Something, was written with the contest in mind.
Alyona was selected to represent Belarus in Baku last year, but was replaced by Litesound after the President intervened. How did this happen? "I don't know. The situation is not clear for me. But I'm optimist and to live in the past is very expensive that's why I'm here in Malmö this year." Of her song, she said, "It's a mystic planet without evil spirits where people are happy. Solayoh could mean different happy moment for everyone."
Ryan Dolan feels the pressure of representing the most successful country in the contest, Ireland. Has he learned anything from Jedward's two performances? "Hairstyle and avoid jumping too high!"
Cyprus' Despina Olympiou was asked about the economic situation in her country. She said  "It's a very hard period for my country, even though other countries have same issues and experience. I hope that my people will find strength to cope with all those problems. We help each other a lot, we are in this together" Back to matters Eurovision, why has she chosen a ballad? "As you know, I don't really write my music. This time I wanted ballad, because I believe they last longer."
Belgium's Roberto Bellarosa was asked what singing in Eurovision meant to him. He declared that it would be "One of the most beautiful times of my life." He is singing in English because "The lyrics are more intensive in English and that I would prefer to learn English to be able to do this."
Last to meet the press today were the young ladies from Serbia, Moja 3. One of them, Nevena Božović, is a past participant in the Junior version of the contest. "It was the best experience in my life. It's a big pleasure to represent your country already the second time in Eurovision" she said. Are there any differences between the two events? "I was a child, but the feeling is the same – it's amazing." Marija Šerifović, winner of the 2007 contest, put in an unexpected appearance. She said, "I'm happy to be back with you guys. I have been on the stage for such a long time, and now it's time to do something from the other side. Start to write about the girls – they are pretty, they have many good qualities, but first of all they know how to sing."