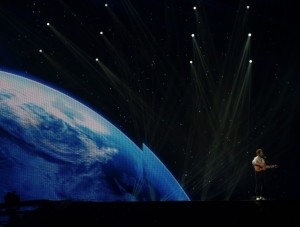 After two very exciting semi finals today it was finally time for the 25 finalists first dress rehearsal. Now they need to rise their standards a couple of notches even though many of the artists seemed to save both energy and their voices for tomorrow's big show.
Note: The opinion expressed in this article are those of the author and are not necessarily the one of EuroVisionary.com   
The opening act 
Stefan Raab opens the show with a cover of Lena's winning song "Satellite" from last year. I promise you all, you've never heard this song been played this way before. He will also get a little help from his co-hosts Anke and Judith and at the end of the song he is also accompanied on stage by Lena herself.
Song number 1. Finland Paradise Oskar – Da da dam
This performance is still as effective as it was in the semi final. Paradise Oskar or Axel Ehnström as his real name is seem relaxed on stage. He looks a little bit tired today since his charisma doesn't go through the screens as much as in the semi final. I'm sure though that it will change tomorrow night when he performs in front of the audience in the arena and millions of viewers at home. Paradise Oskar has become a little bit of a favourite here in Düsseldorf, and I'm sure he will end up in one of the top spots.
Song number 2. Bosnia and Herzegovina Dino Merlin – Love in rewind
As always a solid performance from Dino who smiles during the whole performance. It seems like he only can go full speed at all times, indeed in this rehearsal as well as during the other performances. This song leaves you feeling very warm and Dino will probably end up in one of the top spots as well.
Song number 3. Denmark A friend in London – New tomorrow
I wasn't doubting that Denmark would get to the final. Actually I didn't like this song when I first arrived to Düsseldorf, but I had to change my mind about it when I saw it stage for the first time. This is a very well produced performance. Though I think it is to their disadvantage to start as number 3 in the final. I'm afraid that people will forget the song until the end of the performances and therefore might forget to vote for it. But provided that the viewers do remember to vote for Denmark, they also have a chance to fight for the top spots.
Song number 4. Lithuania Evelina Sasenko – C'est Ma Vie
There is no question about whether Evelina can sing or not because she really can. But to be honest I didn't believed in this song when I first heard it. I'm quiet sure that the early starting position and the fact that it is a ballad is a disadvantage for her.  It will probably end up somewhere in the bottom.
Song number 5. Hungary Kati Wolf – What about my dreams?
As in previous rehearsal flawless singing from Kati. But just as Paradise Oskar she seem to save her energy until tonight's jury rehearsal and the big final tomorrow. I really enjoy this and I love the song since it's my personal favourite this year. But there are a lot of other up tempo songs coming up and this one might be forgotten because of the early starting position. Unfortunately for me I think this will end up in the middle.
Song number 6. Ireland Jedward – Lipstick
It's always full speed with when Jedward is on stage, but even these two fireballs seem to have a little lower gear for this afternoons dress rehearsal. The twins sing out of tune sometimes, but I'm guessing that the one's that votes for Jedward doesn't do it because of their perfect singing. I guess they get votes because their performance is entertaining.
Song number 7. Sweden Eric Saade – Popular
Sweden up next. Eric told the Swedish reporters yesterday that he would  save his energy for the jury rehearsal tonight and for the final tomorrow and that shows. He leaves parts of the singing to his choir and doesn't seem to want to waste too much energy on the dance either. But he does look very satisfied with his performance when he leaves the stage. As a Swede I'm not sure I'm being objective. I hope it will end up in top 10 at least.
Song number 8. Estonia Getter Jaani – Rockefeller Street
A solid performance from Getter Jaani. As earlier it is a lot of energy. I think this will easily sail through to final and it will probably end up in one of the top spots.
Song number 9. Greece Loucas Yiorkas feat. Stereo Mike – Watch my dance 
Unlike the other artists, the Greek's are not rehearsing in their proper clothes today. But Loucas singing is flawless and I think this is a really powerful act which will touch the viewers at home. But unfortunately I don't think that this song will be among the songs that will battle for the first position tomorrow.
Song number 10. Russia Alexej Vorobjov – Get you
I find this act much messier now then before. It has a catchy refrain but in-between that I think it's kind of boring. But despite what I think about it, Alexej does a good rehearsal and seem both happy and relaxed on stage. Speaking from my heart, this shouldn't make the top 10 tomorrow, but I think it will end up in top 5.
Song number 11. France Amaury Vassili – Sognu
Great song, great singer, great singing and great production. I'm sure that every female viewer will pick up their phones to vote for this. There is actually no way of resisting this guy and this song. You simply melt to the ground when he smiles and looks at you through the camera. I agree with the bookmakers on this one! This might be the winner of Eurovision Song Contest 2011.
Song number 12. Italy Raphael Gualazzi – Follia d'Amore / Madness of love
This is not my cup of tea really, but I must admit that Raphael is a good singer and a good musician. He seem relaxed on stage but also probably saving his energy until tonight and tomorrow. Unfortunately, I think this will end up in the bottom together with Lithuania.
Song number 13. Switzerland Anna Rossinelli – In love for a while
A solid performance from Anna. Her act is quiet nice and soft and therefore she doesn't need to worry about wasting energy and hold back on anything. Not one of my personal favourites but I think that will be placed somewhere in the middle.
Song number 14. United Kingdom Blue – I can
UK up next, and I don't imagine that the British delegation will satisfied with this rehearsal. The guys sing out of tune and production-wise I think this is a big disaster. I think they have been better during their previous rehearsals. If this is what the jury will see and hear tonight and what the viewers will see tomorrow UK will not stand a chance.
Song number 15. Moldova Zdob si Zdub – So lucky
This is also one of those artists that only seem to have one gear. They do this with full energy but the performance is still to messy for me. On the other hand, it qualified last night but in the end I think it will end up somewhere in-between the middle and the bottom.
Song number 16. Germany Lena – Taken by a stranger
Alright, this is one of those act where I don't actually like the song, for me this is kind of odd. But somewhere inside I realise that this is good. The production of this is really excellent, maybe the best we have seen in Eurovision Song Contest. This will end up in the top I'm sure, but not sure if it will be of any threat for France.
Song number 17. Romania Hotel FM – Change
Since Hotel Fm was one of the artists going through to the final from the semi final yesterday, they recently performed on stage and therefore don't have to waste to much energy on this rehearsal. They already know what to do. But however the singer smiles and jumps around and treats us with his lovely smile. Don't know if this is so strong so it has a chance to compete for a top spot. It will probably end up in the middle somewhere.
Song number 18. Austria Nadine Beiler – The secret is love
As always the singing is flawless, Nadine is an excellent singer. The song is beautiful but the performance unfortunately a bit boring for me. This is one of those songs where I don't know if I should put it in the top or in the bottom. My heart says bottom but my head says that it will end up somewhere in the top spots.
Song number 19. Azerbaijan Ell/Nikki – Running scared
This is actually the worst rehearsal/performance I've seen from Azerbaijan. This does not sound good at all. I really like the production and the song. It's soft and gentle and looks nice on stage. I hope they will not destroy it with singing out of tune.
Song number 20. Slovenia Maja Keuc – No one
This is another of the songs where I couldn't figure out if I liked it or not before I came here. This song grows when you've heard it a couple of times and also when you see the performance. Now I really like it but I don't think it will be of any threat for the songs in the top spots, it will probably end up somewhere in the middle.
Song number 21. Iceland Sjonni´s Friends – Coming home
I feel warm after hearing this song. The guys seem really relaxed on stage and does a great rehearsal. And as this act is not as physically challenging as some of the other acts these guys can go all in at this rehearsal. This is another song where I don't know whether I should put it in to top or the bottom. I'm thinking about if I should put it in my top 5 or if they will end up a little bit further down.
Song number 22. Spain Lucia Pérez – Que Me Quiten Lo Bailao /They Can't Take The Fun Away From Me
This is a feelgood song which probably benefit from having a starting position late in the show. For me, the performance is a little outdated and actually reminds me of Eva Santamaria from 1993. My guess is that this will end up in the bottom.
Song number 23. Ukraine Mika Newton – Angel
Still this is one of the most well produced and excellent performances I've seen and I'm always emotionally touched by this song. Mika has a great voice and the singing during this rehearsal is flawless. I want to place this in top 10 but I'm not sure in which spot yet.
Song number 24. Serbia Nina – Čaroban
I only have one word for this, excellent. This is another song that I didn't really understand and therefore didn't like. But on stage with the proper production this is great. Nina's rehearsal is great, unfortunately for the press sitting in the press centre it's interrupted of the fire alarm. The noise of the alarm drowned half of her rehearsal but the first part was great. My guess is that this will end up somewhere in-between the top spots and the middle.
Song number 25. Georgia Eldrine – One more day   
Eldrine looks secure and relaxed on stage and their singer certainly can sing well. This is a well produced performance and since there are no other songs in this genre I reckon this can do quit well and maybe climb into top 5.
I think the winner will be among these 5 countries:
1. France
2. Germany
3. Austria
4. Bosnia and Herzegovina
5. Estonia
Pictures and videos from the rehearsal will be uploaded soon.