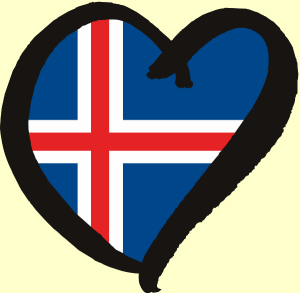 Iceland starts its national selection on Saturday. The four songs that will compete in the first out of four qualifying heats are available to listen to online. Two of them will qualify for the final to be held the 14th of February.
This year Iceland has chosen a selection that consists of four qualifying heats with four songs in each. Two of the songs will qualify directly for the final on the 14th of February. The winner of the final will be representing Iceland at the 2009 Eurovision Song Contest in Moscow where first task will be to qualify for the final. Last year Iceland qualified for the final for the very first time since the format with two semi-finals was introduced in 2005. Euroband finished 14th with This Is My Life.
 
The four qualifying heats will take place over the next month starting on Saturday the 10th of January. The songs that will compete on Saturday can be heard by clicking the links below.
Edgar Smári – The kiss we never kissed
Music: Heimir Sindrason, Lyrics: Ari Harðarson
Heiða Ólafs – Dagur nyr
Music: Halldór Guðjónsson, Lyrics: Íris Kristinsdóttir
Jóhanna Guðrún Jónsdóttir – Is it true
Music and Lyrics: Óskar Páll Sveinsson
Ólöf Jara Skagfjörð – Hugur minn fylgir ther
Music and Lyrics: Valgeir Skagfjörð