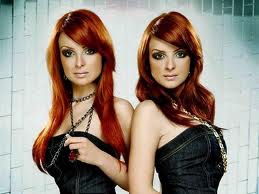 Today it was time for the contestants of the 2nd semi final to have the first of three dress rehearsals before the live broadcast tomorrow night. They now only have a few more chances to solve possible technical errors and make last improvements on their performances.
Note: The opinion expressed in this article are those of the author and are not necessarily the one of EuroVisionary.com   
Song number 1. Bosnia & Herzegovina Dino Merlin – Love In Rewind
Dino looking very happy and relaxed on stage today. His singing is as always flawless and it just might have a chance to qualify to the final. Unfortunately the camera angles are a little bit strange from time to time which takes the impression down a little bit.
Song number 2. Austria  Nadine Beiler – The Secret Is Love
Nadine does look a little bit uncomfortable on stage. I'm a bit afraid that this little girl won't come across well through the television screens as she doesn't interact at all with the cameras. As the song is a ballad and she stands still during the entire performance she would need a lot of expression in her face to come across but there is almost no expression at all.
Song number 3. Netherlands  3JS – Never Alone
A solid performance from 3JS even though there is a few bad notes from the singer from time to time. The singer also look very relieved when the performance is over as if there had been something bothering him during his performance.
Song number 4. Belgium  Witloof Bay – With Love Baby
Flawless singing from the members of Witloof Bay, without question these are great singers. I still have to figure out what's up with the choreography, all the walking around and the dull moves.
Song number 5. Slovakia  TWiiNS – I'm Still Alive
These cute girls will definitely make an impression, but the question is if they will be able to hit all the notes tomorrow. It sounds allright but not great since they are out of tune from time to time. This might also go through to the final.
Song number 6. Ukraine Mika Newton – Angel
This is a really cool act where the song and performance really comes together to a whole and makes it really interesting to watch even though the song is mid-tempo. Sand artist Kseniya Simonova's work suits the song and I find myself really enjoying this. Unfortunately the rehearsal is interrupted when the music suddenly stops and Mika has to start all over again. The interruption however doesn't seem to effect Mika at all as she does everything all over again with ease. This is another probable qualifier.
Song number 7. Moldova  Zdob şi Zdub – So Lucky
This is a very colourful performance and there is certainly a lot going on on stage. I find it a little messy with all of the colours and several people on stage. I don't think Moldova will qualify for the final since it's to hard to follow everything that is going on on stage.
Song number 8. Sweden  Eric Saade – Popular
Eric seems very happy and relaxed on stage giving this his all. The dance looks great except from a few strange camera angles that do not fit in at all and make the viewers at home miss out of cool dance moves. In the press centre the singing does not sound that good, but it's hard to say what the reason is, if it's just the echo in the arena or if it just is bad. Eric looks really satisfied when he leaves the stage. This should qualify for the final.
Song number 9. Cyprus  Christos Mylordos – San Aggelos S'agapisa
Now this is a cool performance and very effective. I get emotionally touched by this performance even though I don't understand the lyrics. The singing in this one is also flawless.
Song number 10. Bulgaria  Polly Genova – Na Inat
Poli is a great singer but I'd like a little bit more action from her. The walk across the stage is simply not to mirror the energy of the song. This is one of very few acts that actually benefits from the distance camera shots so you can see the entire backdrop behind Poli and it's cool effects.
Song number 11. FYR Macedonia  Vlatko Ilievski – Rusinka
A really cool number with lots of energy. First I thought that this was a song that would easily qualify but looking at the performance on the screens in the press centre I don't think the singer Vlatko comes across on television at all. Maybe that will change tomorrow when there is real audience in the arena.
Song number 12. Israel  Dana International – Ding Dong
This is also a song full of energy, unfortunately Dana International doesn't manage to mirror that at all in her performance. The two things that bother me the most are that she is constantly looking at the wrong cameras and that she is out of tune more or less throughout the entire performance.
Song number 13. Slovenia Maja Keuc – No One
This is a good performance and a nice little song from Maja. However I think  there are far to many distance camera shots which make Maja almost disappear on the big stage. All in all, this looks and sounds quiet good.
Song number 14. Romania  Hotel FM – Change
Wow folks, here we have a guy that comes across the television screens and who smiles and flirts with the cameras. Move your coffee tables out of your living-rooms, you might wanna dance along to this one. The singing is flawless and the performance as a whole is really good.
Song number 15. Estonia Getter Jaani – Rockefeller Street
Another performance with a lot of energy and Getter seem very comfortable on stage and also seem to enjoy her performance. Getter's singing is good but not entirely perfect. This is a very likable song performed by a likable girl. This should qualify for the final easily.
Song number 16.Belarus  Anastasiya Vinnikova – I Love Belarus
During the rehearsal you are almost unable to hear Anastasiya's singing above the loud music. Why you choose to stand still during a performance singing a very energetic song is a legitimate question and I don't understand why they choose to do so. Even if the singing is good I don't see this qualifying for the final. 
Song number 17. Latvia  Musiqq – Angel In Disguise
This is a likable song with two very likable guys. Musiqq joins the group of artists this year that chooses to rap a little bit in the middle of the song. I'm not sure that it fits the song but they might just get away with it an qualify to the final.
Song number 18. Denmark  A Friend In London – New Tomorrow
A solid performance and flawless singing. Somehow they have managed to get it to look like it happens a lot on stage when the truth is that i doesn't. This is a really good act and a very good example of what a well choreographed and well produced performance should look like.
Song number 19. Ireland Jedward – Lipstick
Jedward the last one to rehearse today as they are the 19th act tomorrow. The singing is alright and their dancing is as well, however the performance looks messy since there is so many different things going on on stage and on the stage and on the backdrop. But despite that, I think these two guys will be able to charm their way into the final.
My prediction for qualifiers from the 2nd semi final in random order:
Bosnia and Herzegovina
Estonia
Denmark 
Sweden
Slovakia
Romania
Latvia
Ukraine
Bulgaria
Ireland
Pictures and videos from the rehearsal will be uploaded soon.