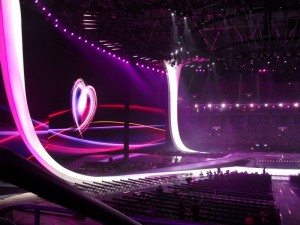 This afternoon we saw the first dress rehearsal for the first semi final. It was the first opportunity for the artists to present themselves in front of a smaller audience. The rehearsal started with a delay of 20 minutes.
Note: The opinion expressed in this article are those of the author and are not necessarily the one of EuroVisionary.com.
The opening act:
Actually there is no special opening act. The presenters Stefan Raab, Anke Engelke and Judith Rakers welcome the audience in different languages.
1) Poland – Magdalena Tul – Jestem
Magdalena has the honour to open this year's edition. She gave a good vocal performance and did a good dancing as well. In my opinion this is a possible qualifier.
2) Norway – Stella Mwangi – Haba haba
Stella is one of the fan's favourites. Her voice is not that strong, but during the chorus she is carried by the powerful voices of her backing vocalists. At the beginning of the second verse she missed her entry. It can be hard for her to qualify.
3) Albania – Aurela Gace – Feel the passion
Aurela is one of the most experienced artists in this year's contest. She has such a strong and powerful voice and gives a very good performance. She would deserve to qualify, but this song might be a little bit to bulky for the European audience.
4) Armenia – Emmy – Boom boom
Emmy gave a good and confident performance. The choreography is very original. Personally I do not like this song very much, but as it is Armenia it would be a wonder if this could not qualify.
5) Turkey – Yüksek Sadakat – Live it up
A good performance of this catchy rock song, although I had the feeling that the lead singer sang the wrong lyrics during the first verse and had some vocal problems as well. We finally got to see the surprise about the female singer in the cage (or the globe). At the end it was opened by the lead singer and she came out wearing eagle feathers. I am very sure it will qualify.
6) Serbia – Nina – Caroban
We saw a very confident and colourful performance of Nina and her girls on stage. The song is catchy and stays in your mind for a longer time. It could be very close to qualify, but if it is on the edge to qualify, it might be a disadavantage to have so little Balkan countries in this semi final to vote.
7) Russia – Alexej Vorobiev – Get you
Again a very well planned and choreographed performance from Russia. The song is modern, catchy and Alexej sings and dances well. I am very sure this will make it to the final.
8) Switzerland – Anna Rossinelli – In love for a while
This is such a sweet song and Anna performs it very well. Switzerland has not qualified since 2005 and they really deserve it this year. I would really like to see them back in the final, but I am not sure about it because the song-part which was chosen for the reprise of the songs for the televoting could be a better one.
9) Georgia – Eldrine – One more day
The female lead singer gave a good vocal performance to this rock song, although it was a little bit stronger during the first rehearsals. During the song one of the Georgian guitartists fell down to the floor. This was definitely not planned and should not happen again tomorrow night. Generally I would say this is an outsider, but as having Armenia, Azerbaijan and Russia in the same semi final, it is quite likely that they qualify.
10) Finland – Paradise Oskar – Da da dam
Paradise Oskar gave a very sweet and simple performance of his song. It reminds a bit of last year's Belgian entry Me and my guitar. If the people like this kind of ballad again, he might have a good chance to qualify.
11) Malta – Glen Vella – One life
Glen Vella delivers a very cheerful and coloured performance. In some way it might be a little bit exaggerated. Malta has high hopes in Glen to reach the final again after one year of absence. It might work with this song, but I would rather say it won't.
12) San Marino – Senit – Stand by
This is a ballad from the small San Marino and very well performed. I am sure this will be a favourite among the juries, but for the televoting it might not be catchy enough. I fear this will be the second participation for San Marino without qualifying for the final.
13) Croatia – Daria Kinzer – Celebrate
Croatia is back with the trick of changing clothes on stage. In 1998 and 1999 they were very successful with this method. Can Daria repeat the success of Danijela and Doris Dragovic? Well, the song is quite nice and catchy, but Daria's voice does not sound very strong. Maybe because of her height she appears a little bit stiff on stage. Especially after last year's disappointment Croatia would deserve to be in the final, but it will be very hard, not only because they only have Serbia as a neighbour country to vote in this semi final.
14) Iceland – Sjonni's Friends – Coming home
The first problem occured when the stage was not finished on time after the Croatian entry. When they began to sing, one of the singers seemed to have some technical problems because he sounded quite weak and quiet. But later on everything went well and Iceland should be a candidate for the final.
15) Hungary – Kati Wolff – What about my dreams?
Now it was time for the big fan's favourite. In the past it has happened that especially a very hyped fan favourite finally failed. I hope this won't happen to Kati. She sings very well and the performance is good. She definitely deserves it to be in the final.
16) Portugal – Homens da Luta – A luta e alegria
The Portuguese performance has not changed since the first rehearsals. Vocally it is more screaming than singing. I might be biased because I personally do not like this song, but nevertheless I am quite sure that Europe won't understand the Portuguese message and will so leave them out of the final.
17) Lithuania – Evelina Sasenko – C'est ma vie
This is the great ballad of this semi final. Evelina has a very powerful voice and the song creates a very romantic atmosphere. On the other hand the use of sign language does not fit very well and in my opinion Evelina does not come across the camera very sympathic. So I fear that Lithuania will be staying out of the final again.
18) Azerbaijan – Ell & Nikki – Running scared
In my opinion this is the winner of this first rehearsal. The song is so well arranged and Eldar and Nigar delivered a perfect performance on stage. Anything else than a qualification to the final would be a huge surprise.
19) Greece – Loucas Giorkas ft. Stereo Mike – Watch my dance
Finally we had the last song on stage. The rap part is still something you have to get used to, but as soon as the chorus starts it is just a very good and powerful ballad in a typical Greek style which created myself some goosebumps. The Greek dances in the background fit very well. They might have the advantage of performing last, but this should also qualify from another starting position.
Interval Act
As the Interval Act the ensemble Cold Steel Drummers was chosen. They consist of 20 musicians of North Carolina (USA). We did not see them on stage, so we have to wait for some more information.
The films in between the performances show places in Germany with people from the partictipating countries. At the end of each film they display the motto Feel your heartbeat in the language of the next upcoming country.
After song no. 5 we see a short film which was shooted during the opening party. Stefan Raab and Anke Engelke went around teaching the participants an old German folk song to sing.
So if I had to name the 10 qualifiers now, I would take these countries:
Poland
Armenia
Turkey
Russia
Georgia
Finland
Iceland
Hungary
Azerbaijan
Greece
Photos and videos of this rehearsal will soon be uploaded to the site.