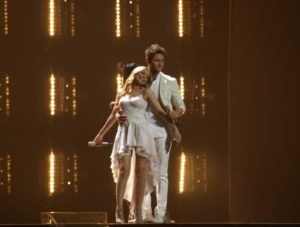 The final dress rehearsal for the 1st semi final took place at 15:00 pm.  This was the final chance for the acts and technicians to get everything prepared for tonight's big show.  Here are some opinions of the final rehearsal.
Note: The opinion expressed in this article are those of the author and are not necessarily the one of EuroVisionary.com. 
1. Poland – Magdalena Tul – Jestem – A great and live start to the show by Magdalena. I hope this can make it to the final but it might just be lost amongst the other songs.
2. Norway – Stella Mwangi – Haba Haba – The party continues with Stella and her dancers.  The happiness and enthusiasm will surely transmit to the viewing public.
3. Albania – Aurela Gace – Feel The Passion – A passionate performance by Aurela. She puts everything in to her show and although this is not one of personal favourites, Albania should progress to the final.
4. Armenia – Emmy – Boom Boom – Some technical problems for Emmy with her microphone.  Also, in this rehearsal Emmy did not walk around the boxing ring made by her dancers.  I hope everything goes well tonight for Emmy and Armenia.
5. Turkey – Yüksek Sadakat – Live It Up – A solid performance by the boys from Turkey. This should sail through to the final.
6. Serbia – Nina – Caroban – Another faultless performance by Nina and her dancers and backing vocalists.  This happy and summery song is one of my personal favourites.
7. Russia – Alexey Vorobiev – Get You – A few little problems with the microphone for Alexey.  But this popular song and stage performance will take Russia to the final again.
8. Switzerland – Anna Rossinelli – In Love For A While – Also, a slight problem with the microphone for Anna towards the finale of the song.  Hopefully, this will be sorted for Anna this evening.
9. Georgia – Eldrine – One More Day – A polished stage act for Eldine.  Although not my personal type of music this was very professional and this should make it to the final.
10. Finland – Paradise Oskar – Da Da Dam – I find my mind drifting to imagine what is for lunch whilst this song is on. I find the whole thing quite boring. Sorry!
11. Malta – Glen Vella – One Life – Glen livens up the show again with another polished performance with his dancers and backing vocals.  Come on, let's get Malta to the final!!
12. San Marino – Senit – Stand By – Senit sings well but this song will also be lost amongst the other semi finalists here.  Great to San Marino back though!
13. Croatia – Daria Kinzer – Celebrate – An uplifting and fine performance from Daria and her team.  The costume changes work well too.  Well done Croatia!
14. Iceland – Sjonni's Friends – Coming Home – This song could well be a dark horse and could pick up votes from all around Europe.  Another good show from the band.
15. Hungary – Kati Wolf – What About My Dreams? – One of my personal favourites before I arrived in Germany but I am little concerned this might not pick up enough votes to qualify.
16. Portugal – Homens Da Luta – A Lute e Alegria – Well the song is not good and I do not get the joke.  But I must praise the spirit and enthusiasm of the band and in some bizarre way it actually fits in to the show quite well.
17. Lithuania – Evelina Sasenko – C'est Ma Vie – Evelina gives a charming performance and the show is enhanced where she uses sign language to portray words through the song.  Not sure if this will be enough to make it to the final
18. Azerbaijan – Ell & Nikki – Running Scared – Another favourite of mine.  Ell & Nikki connect well on stage and performance is very good.
19. Greece – Loucas Giorkas feat. Stereo Mike – Watch My Dance – I personally do not get this song.  But Loucas & Stereo mike deliver a good stage performance.  Greece will just have enough to make it to the final.
A great show with a wide variety of styles to please almost everyone.  Most of the artists did not wear the costumes for the main show this evening in this final rehearsal.
My predictions for the 10 to make it to the final are –
Russia, Azerbaijan, Albania, Armenia, Turkey, Greece, Iceland, Georgia, Croatia, Serbia