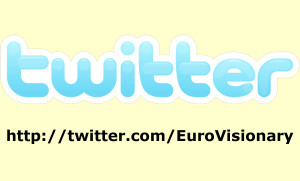 We recently started giving you the latest news via twitter – and tonight we go one step further when we will bring you live updates during the Irish national final. Tomorrow we will be doing the same thing for the Norwegian final. Join us on twitter and we'll make you feel like you were there!
EuroVisionary is already active on Facebook and MySpace and recently we also introduced twitter as a way to keep you updated on the latest news regarding the Eurovision Song Contest, its national selections and the many participants – former as well as the new ones we will be meeting in Moscow.
Tonight will be the first time we'll be using twitter to bring you live updates during a show. If the web stream stays up during the Irish final we will provide you with instant news giving you time to watch the second semi-final in Macedonia which are going on at the same time.  And tomorrow, which will be another busy Saturday, we will make sure to keep you updated on the Norwegian final via twitter.