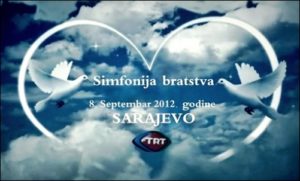 There is no doubt that music has a very powerful influence on uniting people from all over the world. With the pioneering of TRT, popular artists from twelve countries, including Eurovision stars, are going to come together in Sarajevo to perform for brotherhood and peace.
With no fewer than fifteen television channels and growing influence of broadcast, TRT (Turkish Radio and Television Corporation) intends to organize a very special event that will develop cultural and musical bonds between countries. The concert is called "Kardeşlik Senfonisi/Simfonija Bratstva" (Symphony of Brotherhood) and it will be held on September the 8th at 19.00 (CET) in Zetra Sports Hall in Sarajevo. The show will last for two hours.
The music director of the concert will be Oğuzhan Balcı, who is a member of the academic staff at Istanbul Technical University, the Conservatory of Turkish Music. All the songs in the repertoire will be rearranged by Oğuzhan Balcı for the Symphony Orchestra and the performances will be accompanied by the Philharmonic Orchestra of Bosnia and Herzegovina.
Here is the list of the artists that are going to perform at this event:
Turkey (TRT) Sezen Aksu (Turkish NF 1983,1984,1985)
Greece (ERT) George Dalaras
Serbia (RTS) Željko Joksimović (Serbia and Montenegro 2004, Serbia 2012)
Bulgaria (BNT) Yıldız Ibrahimova, Ivo Papazov
Romania (TVR) Marcel Pavel (Romania 2002)
Albania (RTSH) Saimir Braho (Albanian NF 2004,2005,2007,2011,2012)
Kosovo (RTK) Rona Nishliu (Albania 2012)
Macedonia (MRT) Elena Petreska (Macedonian NF 2007)
Montenegro (RTCG) Nina Žižić (Serbo-Montenegrin NF 2004, Montenegrin NF 2006)
Bosnia and Herzegovina (BHRT) Dino Merlin (Bosnia and Herzegovina 1999,2011) and/or Eldin [not confirmed yet.]
Hungary (MTV) Zoran Sztevanovity [not confirmed yet.]
Croatia (HRT) Nina Badrić (Croatia 2012) and/or Goran Karan (Croatia 2000) [not confirmed yet.]
The event will be broadcast not only by TRT, but also the national broadcasters of the Balkan countries.
You can watch the promotional video of "Symphony of Brotherhood" below: