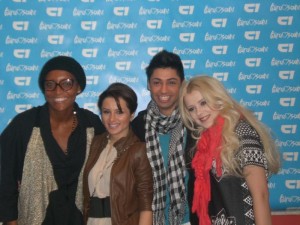 Some of this year's Eurovision stars performed at the 2011 Armenia National Music Awards in Yerevan.  Glen Vella (Malta), Senit (San Marino), Mika Newton (Ukraine) and Emmy (Armenia) performed their 2011 Eurovision Song Contest entries.
The prestigious Armenian National Music Awards took place on 27 March in Yerevan.  This year 4 acts from the 2011 Eurovision Song Contest were there to promote their songs.
Glen Vella from Malta performed One Life, Senit from San Marino sang Stand By.  Mika Newton performed Angel and finally, of course, Emmy from Armenia performed Boom Boom.
All the artists perfectly bonded and danced and chatted the night away together and with some Eurovision fans.
There were also performances from previous Armenian Eurovision acts such as Hayko (2007) and Inga & Anush (2009).
You can see the performances below.