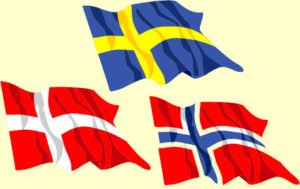 The official album with all 42 participating songs is selling well in Denmark and Norway while the Swedish single chart practically is flooded by this year's entries. Alexander Rybak is, to no surprise, popular in all three Scandinavian countries.
Denmark: On the Danish album top40 we find Ronan Keating, one of the songwriters behind Believe Again, on second place with his latest album Songs For My Mother. Sukkerchok who ended on a tied third place in this year's Danish final is currently #8 while the official double CD including all 42 songs from the 2009 Eurovision Song Contest is new on a 21st position.  Brinck's album has re-entered the charts at #26 now with a total of 16 weeks on the top40.
 
Alexander Rybak's Fairytale has gone straight into a second place on the Danish Tracklist top40. Brinck's Believe Again is number 4 while Yohanna's Is It True is new on a 21st position. There is also space for those who participated in national finals, but didn't make it to Moscow. Agnes from this year's Melodifestivalen is 11th and Sukkerchok is to be found on both 12th and 39th positions.
The airplay top20 covers the most played songs in the radio and the Danish entry Believe Again is number one after 15 weeks on the chart – as the only Eurovision Song Contest song so far. Sukkerchok is 9th with their second single after this year's Dansk Melodi Grand Prix. Agnes's single Release Me is 14th.
Norway: On the Norwegian single top20 Alexander Rybak's Eurovision Song Contest winner Fairytale is number one while his second single Funny Little World is second on the list. Yohanna's Is It True is also there as #12.
 
On the album top40 the official Eurovision Song Contest album is located as the 12th best selling album, just before Ronan Keating's Songs for My Mother. From this year's Swedish final we know the dansband Thorleifs. Their Sweet Kissin' In The Moonlight is #33. Alexander Rybak's album is strangely enough not to be found on the album charts.
 
Sweden: Lots of Eurovision Song Contest entries found their way to the Swedish single top60. Alexander Rybak's Fairytale is first and Yohanna's Is It True is third. Sweden's own entry La Voix by Malena Ernman is 4th with the Azerbaijani entry Always right after as #5. Waldo's People is 11th and Hadise's Düm Tek Tek is #14. Further down the list we find the Estonian entry by Urban Symphony as #19 and Regina's Bistra Voda as #25. The Armenian entry Jan Jan is #29 with Sakis' This is Our Night straight after as #30. Jade Ewen's Andrew Lloyd Webber song It's My time is #34, the German entry Miss Kiss Kiss Bang is #43 while Danish Brinck who didn't get any points from Sweden at all is at #44. The Ukrainian entry by Svetlana Loboda is #46 and the Swiss Lovebugs ends the list of 2009 entries on the Swedish single chart as number 57.
 
The list still includes several Melodifestivalen participants as well: Alcazar's Stay The Night as #24, Caroline Af Ugglas as #33, H.E.A.T as #45, Måns Zelmerlöw as #48 and the Swedish spokes person this year Sarah Dawn Finer as #50.
Thorleifs Sweet Kissin' In The Moonlight album is 4th on the Swedish album top60. Carolina Af Ugglas is #9, Måns Zelmerlöw #26, Alcazar #28, Lili & Susie #32 and Elisabeth Andreassen is #54.