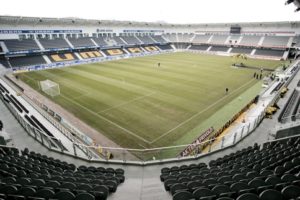 Speculations are over as NRK today in a press conference revealed that it will be Oslo hosting the 2010 Eurovision Song Contest. EBU went along with their request for a change of dates and the dates for the three live events are now set to be 25th, 27th and 29th of May.
As the dates first announced by the European Broadcasting Union would mean an overlap between the Eurovision Song Contest final and the Champions League final, NRK and several other broadcasters asked EBU to change the dates. This wish has been heard and today NRK announced that the new date for the final is the 29th of May 2010. The two semi-finals will be held at the 25th and 27th of May.
EBU and NRK didn't have many options to choose between. Had they moved it to be one week earlier to have the final on the 15th of May the second semi-final on the 13th would have given problems as it is a religious holiday and several countries would therefore not be allowed to show any entertainment on that day. They couldn't have it two weeks earlier either as that would mean a first semi-final on the 4th of May. This could mean that the Netherlands would be out as the 4th of May is their "Remembering of the Deaths" day where they remember those who fell in war. It wouldn't be the first time The Netherlands had to pull out of the Eurovision Song Contest due to this overlap.
This really didn't leave many other options than to go for the 29th of May as the final. This would also give host country Norway the opportunity of showing Europe their 17th of May celebration.
In Norway several cities showed interest in hosting the 2010 Eurovision Song Contest, but right from the start it has been clear that only Oslo was considered large enough to cope with the big event. Oslo have two possible venues: Oslo Spektrum, which also hosted the 1996 Eurovision Song Contest, and the newly build football stadium Telenor Arena.  Which one it will be is still an open question. Telenor Arena can offer the largest capacity, while Oslo Spektrum has the better acoustic and a more central location. It will later be decided which of these venues it will be.