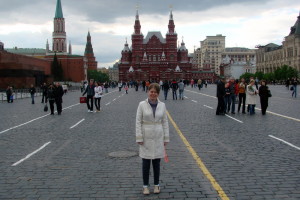 Irish radio journalists blew me off in a very unprofessional way, but I am at least satisfied with the winning song of this year's Eurovision Song Contest – that is not at all common! I finally found time to do a bit of sighseeing and tomorrow we're flying back to Denmark.
The day started with me getting up in time for a planned radio interview with Newstalk, a national radio station in Ireland. They wanted to interview me for the program Weekend Blend, which should be about the Eurovision Song Contest. They called me yesterday; I walked out of a dress rehearsal to talk to them for 10 minutes. Afterwards we agreed that they would call me this morning. Well, I got up and waited for their call which however never came. Not even a message about that for various reasons it was cancelled. Nothing! To me that it is not only unprofessional, it is also bad behavior which I wasn't expecting from them. If that is how professional medias acts in Ireland nowadays then I am glad that there hasn't been any sign of them winning the Eurovision Song Contest in recent years.
I have a special red and white dress I have worn for every Eurovision Song Contest final since 2006, but as I would be watching the show from the press centre this year and went there shortly after I got up, with no opportunity of changing clothes, I decided to use an alternative dress. It is of course also in the red and white Danish colours, but it is a lot lighter in its materials and easier to work in for a whole day.
I am satisfied with Norway winning and Iceland coming second, but I am a bit disappointed about the Danish result. A 13th position is two placements better than last year, but I was expecting a 10th – and would have been satisfied with that. In particular I am disappointed about not getting any points at all from Finland and Sweden – whatever happened to what evil tongues call the Scandinavian mafia?  As Brinck said afterwards then those Swedish bastards needs to be beaten yellow and blue!
I got to bed Sunday morning, sleep most of the afternoon, but still found time to go and see Red Square Sunday. I had a kind of a weird feeling there, which I can't describe. Maybe it was the thoughts of the thousands of people who got killed here that haunted me? Tomorrow afternoon I fly back to Copenhagen, drive 4 hours to Aalborg and after a good night sleep in my own proper bed my thoughts about the 2009 Eurovision Song Contest here in Moscow will also have settled – and I will be back with a little round up. Take care for now – and see you next year in Oslo.