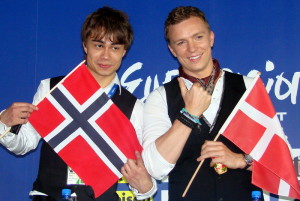 I am very pleased that Denmark made it to the final, and that we now, once again, have all five Nordic countries in the final. I managed to get 10 out of 10 in guessing the qualifiers from the second semi-final, but will I also get the winner right?
My boyfriend asked me before the second semi-final to make a list of the ten countries who would qualify. He and his colleagues were betting money and he wanted me to make his list as he knew I would probably get closer to it than him. I made my list, but once he saw it he just had to make some changes. I had Azerbaijan and Croatia in my list – and he was convinced that those two wouldn't make it – and felt sure Cyprus would.  He asked for my list as he knew I was better, but still changed it. The result was that none of his colleagues got all ten correct. The price went to one getting 9 – but afterwards he had to admit that he should have listened to me as my first prediction was 100% correct! When will people start listening to me???
After Brinck won the Danish final I predicted, without knowing the other songs, that Denmark would qualify for final and end it 10th position. I still think that is a very likely result, although I must admit that the many positive comments I have been hearing lately about the song and its possibilities has made me started to dream a bit. We are not favourites to win, I do know that, but is it possible? I try not to get carried away by the positive comments and stick to my 10th position prediction, but of course I will be extremely happy should we win. After seeing the second dress rehearsal the UK has gotten way up my list. As I see things it is now a battle between Norway, who has been my favourite right since the Norwegian final and the UK with Iceland coming right after. There are other countries I fear could walk away with it and you can be quite sure that should Turkey, Ukraine or Greece win my scream in anger will probably be able to be heard all the way back in Denmark! My boyfriend, who previously had Bulgaria as a winner, is now talking about Moldova to make it – and others are mentioning Azerbaijan. I don't want any of those two to win either. I am sticking to that it is needed with a Northern Western country to win. Nothing more south than Germany please – and nothing more east than Sweden. There will probably be a lot of people complaining about such comments, but that is how I feel right now. After Latvia, Turkey, Ukraine, Greece, Serbia and Russia with just one little remark as Finland in between I think it is time for the Eurovision Song Contest to be won and organised by a North Western European country. I would like to see countries like Italy, Luxemburg and Austria back in the Contest – and I think that is more likely to happen with Norway winning rather than a country like Moldova!
People who have followed my diary here from Moscow will know that I complained a lot about the food in the press centre in the beginning. Well for some weird reason it has gotten a lot better the last few days. Now we can have Mozzarella and tuna sandwiches that actually taste as they are suppose to. Why it took so long I have no idea, but maybe they were also reading my diary and decided to act upon my complaints?
Today, I have heard about people having flights back home early Sunday morning. As they were talking about having to leave from the press centre when it closes at 4 in the night after the final, going to the hotel to pick up their suitcase and then go straight to the airport, I was pleasing myself lucky that I have learned that lesson years ago. We are flying back Monday morning and as such will have the Sunday here to sleep long, relax and perhaps do some of that sightseeing I still haven't gotten around to.  Well next year is going to be different when Oslo is host city and we just have one hour drive to the ferry that brings us directly, easy and fast to the Norwegian capital. It can hardly get any easier, unless Denmark wins and host it in Aalborg where I live – and as I have been to Oslo before I don't need to worry so much about sightseeing.  I am definitely ready for Oslo 2010 – soon we'll know if the European voters are as well. Enjoy the final – and may the best song win – although I can't remember the last time that happened!