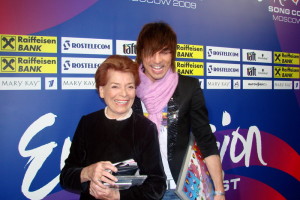 Most people seem to think that Romania stole their spot for the final and Bosnia and Herzegovina's statements are beginning to annoy me. In the meantime Iceland and Portugal appear to have stolen quite some hearts among the fans and the press – and Lys Assia is being abused.
I can't really say I was surprised with the result although I am one of those who don't quite understand how Romania got through. The same counts for Israel, which is my best guess on who got the jury spot. That I am not the only wondering about Romania was confirmed Wednesday in the press centre. The day after the semi-final Elena's qualification on behalf of countries like Switzerland and FYR Macedonia is being mentioned quite a lot. Poor Romania, not many here think you actually deserved it. It is totally different when it comes to Iceland and Portugal. Those two countries seem to have won everyone's hearts. The singer from Portugal is a press darling and Iceland has a beautiful song that is perfect on stage. That it is sung by a young girl with a shy look in her eyes just confirms the image of the innocent girl next door with a fantastic voice. Don't get me wrong, I am not trying to offend Yohanna. I have always liked the song, but sometime half way through her second rehearsal I came to love it. I could feel the historical and cultural connection between Iceland and Denmark when the qualifying countries were announced one by one with no Iceland among them – my fingers were red from no blood coming through when I crossed them too hard for finally being revealed when they were announced at the 10th country – at that time most of the press centre had been screaming Iceland, Iceland, Iceland for the past minutes. I am guessing it was the same in the arena and in front of many TV's around Europe.
I have loved the Bosnian & Herzegovina entry right from the start, but I can't stand them anymore. I can't stand the fact that they keep denying any connection at all to communism. Every single time they are being asked about the song they state that it is a love song, that it describes the love there is among a couple. They have now taken it so far as to being completely lost as to why some people would see any communism symbols in it. That is simply to take this "playing innocent" game a bit too far! Their age in mind – and the fact that the band split up for some years due to the Balkan civil war after the fall of the communism in East Europe and Balkan, really makes this so damn hypocritical that I have had enough! I am not political correct here, but I don't care when it comes to this. There is no damn way Regina can keep thinking that it is a totally weird thing to connect red waving banners with communism when the lyrics also have clear communism symbols! I don't know why they play this game, but a guess could be that they don't want to go into the discussions about why they could get through with a political song when Georgia couldn't. If that is the case they should just refer that question to EBU as it is not the Bosnia & Herzegovina band's job to compare the two cases. With the game Regina is playing now they just appear stupid, ignorant and hypocritical – and though I love the song then I can't stand them anymore!
EBU and Channel One invited for a press conference Wednesday evening with "Special guests and something really special to announce". The press conference wasn't as full as they would have hoped, probably because people are use to these "special" things announced quite big more being a trick to get people to come and listen to them – and indeed that is the impression many of us who went is left with. The special guests turned out to be Lys Assia and Dima Bilan. Excuse me, but Dima Bilan is nothing special. In fact most people appear not to care about him at all – and Lys Assia was also special guest at an EBU press conference during the Eurovision Song Contest in Belgrade last year! She is the first ever winner of the Eurovision Song Contest  and will as such also remain some kind of icon, but to present her every year as "special guest" is simply too much. I do understand that she has that special status, but they are actually taking it away from her by putting her on two years in a row now. She doesn't deserve that – and I feel sorry for her.
I had been looking forward to a trip to Kremlin trip Wednesday morning, but as I got to bed at 5 in the morning I was unable to get up at 8:30. What a shame as I still haven't got around seeing much of Moscow. I often come across people who thinks it is quite cool that I, do to my Eurovision Song Contest dedication, gets to see so many different places which I normally wouldn't travel to, but fact is that since Athens in 2006 I haven't had time for any sightseeing. In Helsinki and Belgrade – and now also in Moscow I am basically at the press centre from morning to evening every day for two weeks. I was planning that this year I would want one day off where I get to see some of Moscow and I am still hoping for it to happen, I just don't know when.
Waiting for second semi-final… As I am Danish (And proud to be so) I really hope Brink manage to qualify. I think he deserves it, but I am nervous about the countries he is up against. We don't have Iceland, Sweden and the United Kingdom to help us through and Spain changing so that they are voting in the second semi-final doesn't really help us a lot either. With Ronan Keating as one of the songwriters – and Brinck being accused of also sounding like him – we should get quite a good amount of points from Ireland and of course we have Norway, but will that be enough? Cross your fingers! I have tipped Denmark to go through to the final and end up as number 10, but the more time I have spent here the more nervous I suddenly get for if we can even qualify. Well, Thursday evening you'll all know if I will be relieved or disappointed.