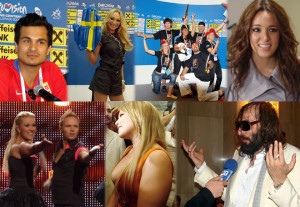 This week seven of the participants from the 2008 Eurovision Song Contest are to be found on the Danish charts. The winner, Dima Bilan, is nowhere to be found on the Top-40 while Sebastien Tellier and Kalomira joins the Nordic participants in a success in Denmark.
The Tracklist Top-40 shows that seven 2008 participants have made it in Denmark. As expected Iceland's Euroband and Norwegian Maria Haukaas Storeng have success in Denmark. Together with former Eurovision winner Charlotte Perrelli from Sweden they get company from nations like France, Greece and Latvia. Denmark's own Simon Mathew is not surprisingly highest ranked of them all though.
#12: Simon Mathew – All Night Long
#24: Charlotte Perrelli – Hero
#29: Kalomira – Secret Combination
#37: Maria Haukaas Storeng – Hold On Be Strong
#38: Euroband – This Is My Life
#39: Sebastien Tellier – Divine
#40: Pirates of the Sea – Wolves Of The Sea
The complete album with all 43 participants is to be found as 20th most sold album in Denmark in its first week.