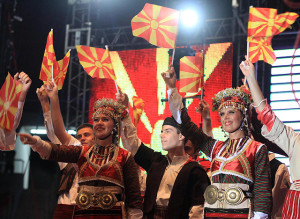 The Government of Republic of Macedonia organised a concert in Skopje, with the attendance of famous Eurovision singers from the Balkans. The show hasn't only shown that the nation's reaction towards special historical dates is full of dignity, but it has also contented all of the viewers with Macedonian folk treasure. 
Marking the 21st anniversary of Independence, the government of Republic of Macedonia organised a special event on September 8th at Philip II Arena, which united many domestic and Balkan singers including Eurovision stars.
The Independence Day Concert started at 9:00 pm when Igor Durlovski performed the national anthem. Then, the show was followed by the trio Brothers Tavitjan who were later accompanied by some of the greatest Balkan singers on stage: Josipa Lisac, Zeljko Bebek, Hari Varesanovic (Hari Mata Hari, Bosnia and Herzegovina 2006), Aleksandra Radovic, Boris Novkovic, Nina Badric (Croatia 2012), Tereza Kesovija, Dado Topic, Aki Rahimovski, Goran Karan (Croatia 2000), Sergej Cetkovic, Jelena Tomasevic (Serbia 2008), Antonija Sola, Kaliopi (F.Y.R. Macedonia 2012), Esma Redzepova, Karolina Goceva (F.Y.R. Macedonia 2007), Miki Jovanovski Dzafer, Risto Samardziev, Vlatko Lozanovski, Vlado Janevski and Oliver Mandic.
"This year, the state holiday will be highlighted by a spectacular concert that will present the rich Macedonian music tradition." said Elizabeta Kanceska Milievska, Minister of Culture, at a press conference on the occasion of this event.
Kaliopi, who represented F.Y.R. Macedonia in the 2012 edition of Eurovision Song Contest said "Tonight, we will all be Macedonian!" when she was on stage.
Tickets were on sale with a symbolic price, only 20 denars (approximately 0.3 Euros) so that eeveryone can enjoy this festival. More than 60000 viewers watched the concert in the arena, and the entire event was also broadcast by Macedonian Radio Television (MRT) and shown on the video screen in the square "Macedonia". Funds from the tickets sold were given to charity.
Here you can watch the live performances of Hari Varešanović, Jelena Tomašević and Kaliopi.