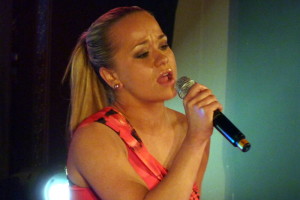 At the 2010 Eurovision In Concert several of this year's participants gave examples of what else they have to offer. This included a medley of Eurovision classics by Sieneke and Juliana Pasha and Harel Skaat singing each their cover of a previous Eurovision Song Contest winner and Alyosha made new lyrics to Nocturne. See the many videos in our playlist.
The concert opened with host Marga Bult singing her 1987 Eurovision Song Contest entry Rechtop In De Wind followed by this year's Dutch hope Sieneke giving a Eurovision Medley where she sang Dutch versions of well known international classics like Waterloo, What's Another Year, Making Your Mind Up among others.
All the participants had been offered to sing a second song. They didn't all do so, but among the many who did we saw quite a variety. Harel Skaat representing Israel sang the 1979 Eurovision Song Contest winner Hallelujah and Juliana Pasha from Albania sang Aprèz Toi, the 1972 winner song from Luxembourg. Alyosha, who will represent Ukraine in Oslo, also tried a previous Eurovision Song Contest winner although in quite a different version. Nocturne had very few words and was for most parts an intrumental song when it won the Eurovision Song Contest in 1995 for Norway. In Alyosha's version the song had full lyrics, which even started with Sha La Lie, the Dutch entry for this year's Contest.
The British entry this year is written by two third of the succeful '80's songwriter and producer trio Stock, Aitken and Waterman. For Josh it was therefore natural to sing Jason Donovan's hit – by the three guys – Too Many Broken Hearts. Aisha representing Latvia had chosen to sing Janis Joplin's old hit Me And Bobby McGee.
Many fans will remember InCulto from their 2006 Lithuanian national final song Welcome To Lithuania and in Zaanstad, the Netherlands Saturday evening they decided to perform that one before their 2010 Eurovision Song Contest entry Eastern European Funk.
Yesterday we provided you with a playlist for the 2010 entries as they were performed at Eurovision in Concert and below you find a playlist for these other songs the participants sang Saturday evening. As usual you can also find all the songs at our youtube channel.