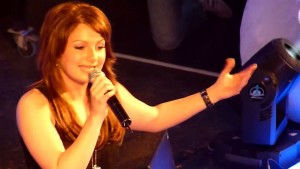 Saturday evening the city of Zaanstad, the Netherlands hosted Eurovision In Concert that featured 17 of this years participants. We filmed their performances and in the playlist you can see some of the songs which will be participating against each other in Oslo in May.
At Eurovision In Concert in the Netherlands the following 17 countries were present: Albania, Belgium, Bulgaria, Cyprus, Finland, Georgia, Israel, Latvia, Lithuania, Portugal, Serbia, Slovenia, Switzerland, Turkey, Ukraine, United Kingdom and of course home country the Netherlands.
Sieneke was the first to present her entry for the 2010 Eurovision Song Contest. She was followed by one Oslo participant after the other getting some important practice before they will be competing against each other in just a few weeks – and of course trying to convince the many fans who had turned up that they deserve their vote. Many had in particular been looking forward to Josh, the representative from the United Kingdom, as the concert in the Netherlands would be the first time the new version of That Sounds Good To Me would be aired. It was very well recieved and most appeared to think that this was a good improvement compared to the version that won the national final in the United Kingdom.
Another participant with a big applause was neighbour Tom Dice, but it has to be mentioned that the Belgian participant started out with asking – in Dutch – to give him the biggest applause so that all the foreign ones would think he was some kind of a superstar! 
We have uploaded all our videos from the concert to our youtube channel and in the playlist below you can see the performances of the entries from 16 of the countries. We appologise for technical problems during the Latvian entry. Soon we will also provide you with a playlist of some of the other songs the participants performed in Zaanstad Saturday evening.