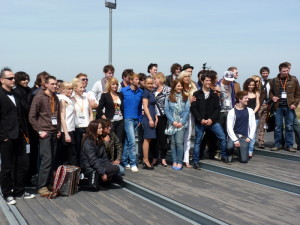 Yesterday 17 of the participants for the 2010 Eurovision Song Contest met in Zaanstad in the Netherlands for a preview concert. Before the concert the participants went to a museum where they met the press and walked a bit around on their own before it was time to get back to the hotel.
In our phto album you can see pictures from the day programme. This was for many of them first time they met with both the Dutch as well as the international press – and of course met each other.
In Zaanstad for this event were the participants from Albania, Belgium, Bulgaria, Cyprus, Finland, Georgia, Israel, Latvia,
Lithuania, Portugal, Serbia, Slovenia, Switzerland, Turkey, Ukraine,
United Kingdom and of course Sieneke who was on homefield representing the Netherlands in Oslo. Marcin Mroziński was suppose to be there as well, but the Polish delegation cancelled due to the plane crash that costed the Polish president, his wife and several of the country's top people their lives 2 weeks ago.
Below you can see a video of InCulto and Ansambel Roka Žlindre & Kalamari giving samples of their Eurovision Song Contest entries.
Later today you can also see videos from the concert as well as more pictures.