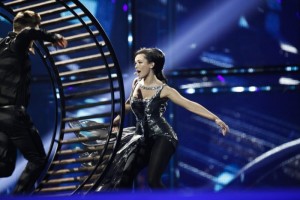 Mariya Yaremchuk carries herself with real charm in Copenhagen. On the opening night of Euro Club last Monday, she performed, in full choreography with her two dancers, not only her entry for Ukraine, Tick-Tock, but also a fantastic rendition of 2009 Moldovan entry, Hora Din Moldova, which apparently is one of Mariya's favourite Eurovision Songs.
The song starts with a shot of the man-size hamster wheel still centre stage with Mariya's dancer inside it; there is an impression of stars on the stage floor projection and, as the camera moves over it, the wheel looks momentarily suspended in space. As soon as the beat of the song starts, Mariya is revealed approaching her man inside the wheel; he is running one moment, switching to clever acrobatics the next. Mariya is singing suggestively to him and, at some point, sends him back to motion when he stops. For all its quick continuous spinning, the wheel gimmick could have well lost its appeal, appear to dominate the stage even, if it wasn't for the really clever choreography, lighting and camera work. The wheel even appears to flash in bright white light, all thanks to the smart floor projection.
Mariya is a stunning vamp in her black shiny dress; this has some characteristic silvery wide straps – one across the upper part of her chest – and ends in long slit tails that the wind machine sends all wavy. The vocals are good and the young singer herself commands the star-lit stage with her presence. There are now impressions of spinning wheels, similar to the centre stage real one, on the backdrop instead of the cog wheels (more directly linking to the Tick-Tock lyrics of the song one would argue) used for the first rehearsal. The presentation comes to an end with Mariya being grabbed by her dancer as she tries to throw herself to the floor. This is a really energetic, polished performance that renders the Ukrainian song with an air of sophistication few would have imagined possible.