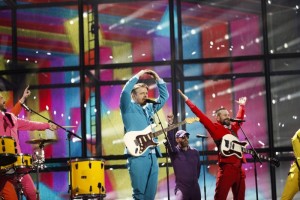 With their humour and personability, the Icelandic participants, Pollapönk, won over everyone present for their appearance at the Euro Fan Café on Wednesday. Today we will have the chance to see whether their enthusiasm levels are still high as they polish the presentation of their song, No Prejudice, during the second rehearsal.
Colour, in fact lots of it, is the word for the Icelandic presentation. Pollapönk have ditched the colourful tracksuits they have been wearing during their performances in Copenhagen so far and smarted up in colourful suits and white bow-ties for the second rehearsal. The stage starts in bright white but this soon changes to the colourful cubes they have been using for the 3D grid element of the stage. A range of bright block colours is also used for squares appearing on the stage floor and backdrop. There is a notable change in the colour palette when the whole hall gets lit in red and the group invite the audience to clap along with them.
The run-throughs go uneventfully with the group being all energetic on stage. Given that they have performed the same routine quite a few times by now, they still manage to make it look spontaneous and fresh. All members perform with ease the stage routine and the vocals are spot on. The presentation comes to a close with four members of the group each forming a letter for the word 'LOVE' with their arms. It is the sort of performance that is likely to bring a smile to people's faces.