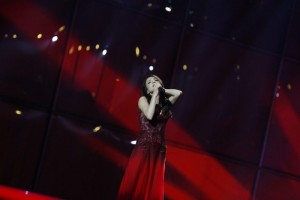 Azerbaijan's Dilara Kazimova gave a breathtakingly simple yet stunning performance of her entry the first time round. Would Start a Fire smoulder and set the stage alight today or would it simply peter out? They normally have some spectacular stage gimmick up their sleeve so we waited with baited breath for a big costume reveal.
Well, Dilara certainly chose a dress with wow factor for her second rehearsal today. It reached down to the floor and was deep red with a leafy neckline and a plunging backline. The female trapeze artist on stage with her was similarly attired; one would think that peforming such trapeze stunts would be rather cumbersome, but she pulls it off with aplomb, looking thouroughly graceful.The trapezist begins by circling Dilara before launching into her routine.
The staging remains unchanged, with the backdrop starting off as a bright white flash of light, before a massive cathedral window becomes visible. This later morphs into a skyscraper scape in blue tones, before a pinkish/purple backdrop of crystals appears. The dramatic feel is heighteneed when reds are introduced towards the end of the number, flooding through the cathedral window. There was a slight delay before the third and final run through for reasons unknown.
There are some fantastic panning and circular shots of the stage while Dilara performs and she has a face that is made for being in front of the camera.
Dilara delivered another strong performance today. She did seem to miss a note in the lead up the the song's first crescendo, and the overall impression is that the vocals, albeit excellent did lack the initial force and vitality first seen on Monday. Subsequent run throughs however showed a Dilara with an impressive vocal prowess. Work is however needed on her pronunciation in places. Female backing vocals are much more prominent today than in the first set of rehearsals. Contrary to other years, Azerbaijan this year is keeping things simple and letting the beautiful song speak for itself.