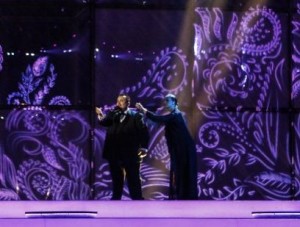 Belgian entrant Axel Hirsoux is a dedicated Eurovision fan himself who – surprise surprise – has long dreamt of taking part in the contest. His emotional ballad, Mother, is dedicated to all mothers and, by extension, to all women around the world.
The Belgian presentation pretty much follows the concept that was used for the Belgian final with Axel in a suit singing centre stage. A middle aged dancer dressed in a long dark cloak – representing a motherly figure one would guess – dances behind the singer before coming closer and reaching out to him with her arm. It is a difficult song sung beautifully by Axel who, nevertheless, looks a bit flustered on stage.
The background consists of abstract floral patterns in blue and purple shades against a dark backdrop. Apart from that, the lighting is fairly consistent and understated but there are some panoramic camera views that add drama to the presentation and Axel's performance. There are subtle overhead spotlights directed at the singer at some point, yet, for all the fluid camera work and a dancer on stage, the setting looks a bit static. The idea of keeping simplicity is good, but there might be more job for the Belgian delegation to do in regards to the lighting and the pattern used on the stage background.