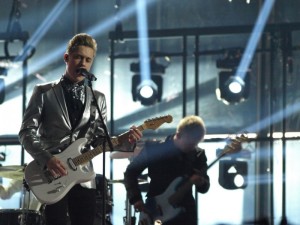 This evening, the final of the 2014 Eurovision Song Contest will be complete as ten more spots will be filled. Half of this evening's result has been decided already as the juries were voting during the second dress rehearsal last night.
EuroVisionary has uploaded 2D as well as 3D videos from this dress rehearsal. Subscribe to us on YouTube to get them and be notified about other great new videos. Pictures will become available in an image gallery here on EuroVisionary, but also on our Instagram profile.
01. Malta: Firelight – Coming Home
A nice song and a nice youthful group to go with it, but that's as far as it goes I'm afraid: just nice. I personally cannot enthuse about it. There is nothing wrong with the Maltese entry this year however; indeed, it has an American feel to it that may appeal to people who are into this kind of music. The fact that Malta performs so early in the night will be a bit of a throwback. During their third rehearsal, Firelight are all smiley. The main singer, contrary to the second dress rehearsal, managed to look to the right camera during the intro of the song and looks good on the screen. The group gave a good inoffensive performance. The song got a strong applause.
02. Israel: Mei Finegold – Same Heart
Israel has provided me with some of my favourite Eurovision entries over the years. When I first heard this year's entry, I thought it was ok; it soon grew on me and was eagerly waiting for it to get on stage during rehearsals. Today, Mei looks happier on stage than she did yesterday. This is a dynamic song in need of a dynamic performance; Mei is doing well enough and her two dancers really add to the performance in this respect. It could be a bit solid here and there, but there is some really nice choreography and camera work nevertheless. The song gets a warm applause both inside the hall and the press centre. I hope this goes through to the final, but the second order of appearance is quite inauspicious.
03. Norway: Carl Espen – Silent Storm
Good understated ballad, sung beautifully. Carl connects well to the camera and it looks as if every word he sings comes from his heart. He is dressed rather casually for this dress rehearsal; not sure it works as well as some of his earlier, more formal stylistic choices. The female violinists at the back look very nice and perhaps there should be more camera shots of Carl with them in the background, but hey. The song gets a good applause. The overall effect is polished and I think it is likely that Norway will make it to the final.
04. Georgia: The Shin and Mariko – Three Minutes to Earth
Not sure that this song sits comfortably amongst the rest of the entries this year. It would perhaps look more at home at the Cambridge folk festival rather than Eurovision. Their performance today is uneventful. The yellow parachute looks really nice on stage and is meant to create some 'I want one' moments from some of the youngest members of the audience (or those who feel young of course). Despite the parachute, I don't think that we will see Georgia in the final this year.
05. Poland: Donatan & Cleo – My Słowianie – We Are Slavic
You other love it or hate it. Or some people might hate the song but love the dancers and their suggestive moves and vote for Poland anyway. I have to admit I have warmed up to this one. It is a much needed change from all the ballads this year. It doesn't take itself too seriously, but why should it? It's fun enough and this was one of Cleo's best live performances so far. For all the antiques on stage, the camera work could have been a bit more experimental. Not ecstatic about it, but pleasant like a strawberry sorbet (despite the screechy vocal delivery).
06. Austria: Conchita Wurst – Rise Like a Phoenix
If 'oh, my dear' was your initial reaction when you first saw who the Austrian representative would be this year, then reconsider. Conchita comes across as one of the kindest, clever and witty artists in this year's Eurovision. Today, she gave yet another very strong vocal performance and the overall result is very classy (yes, beard and all). The song gets a very strong applause in the press centre. This should go through, but I am uncertain as to whether enough people will be able to see beyond the 'bearded lady' image.
07. Lithuania: Vilija Matačiūnaitė – Attention
Vilija and her dancer are in casual black tracksuits for this third rehearsal. One would imagine that her fancy costume with the black tutu dress is at the dry cleaner's. She looks much happier and comfortable on stage nevertheless and gives an effortless performance. Not sure that this would be a strong contender for the final however.
08. Finland: Softengine – Something Better
I think this is a strong contender, not just for qualifying to the final, but for going all the way and getting a good ranking on the big night. The stage looks stunning, lit with moving spotlights, the group are doing a very good job and the song is not bad at all. Admittedly not a typical 'Eurovision song', but Finland has proven in the past that they know how to do rock. This should get the youth vote.
09. Ireland: Can-Linn (featuring Kasey Smith) – Heartbeat
Not a bad song. She is stunning, she has a good voice and it is slightly bewildering why she doesn't appear more confident on stage. Having said that, looking at the monitor, I can see that today's performance is one of her best. At last, she looks comfortable, doesn't miss the camera and her vocals are strong – oops, I've just jinxed her – her very last note was completely off. Hmmm, a bit of a hit and miss performance-wise. Qualifying is not a given for Ireland.
10. Belarus: Teo – Cheesecake
I like this song. It's contemporary and fun. Somehow these are not attributes I normally associate with Belarusian entries, so that's a big improvement. I also like the dance routine; the overall effect is reminiscent of some of Justin Timberlake's live performances. The performance ends with a clever gimmick and Teo giving a kick to the camera. Not an absolute certain to qualify, but I would like it to.
11. F.Y.R. Macedonia: Tijana – To the Sky
Now I don't know why people don't like this entry. I liked the song and I liked even more Tijana when I first saw the video from the national selection of F.Y.R. Macedonia. I was a bit disappointed when I first saw her performing live here in Copenhagen – none of the charisma and oomph I was expecting was there. Having said that, today's performance was very strong and the stage lighting and camera work add to the entry's freshness and dynamism. I think it should go through and hope that I won't be in the minority for believing so.
12. Switzerland: Sebalter – Hunter Of Stars
Catchy whistling and song. The lyrics are surprisingly perceptive if you bother to listen to them even though they do not always match the music phrases and can sound deliberate as a result. His performance has been consistent throughout. Same smile, same whistling, giving you the impression that he knows what he's doing on stage. I personally find him a bit cheesy, but so I found Alexander Rybak and look what harm it did to him… I think that this might get through after all.
13. Greece: Freaky Fortune feat. RiskyKidd – Rise Up
Rise Up is one of the most uptempo songs this year and therefore easily stands out. The children present in the audience this afternoon dance to the rhythm of the song. Both Nikolas and RiskyKidd give very energetic performance. Watch out for the clever sequence when the camera flicks between RiskyKidd and Nikolas standing at the end of the runways on either side of the stage. The guys should take care not to run out of breath with all this jumping about – this has happened a couple of times during their rehearsals. The trampoline gimmick generally goes down well bringing a smile to people's faces. The overall result is fresh and fun. I think it is fair to say that this is going through to the final.
14. Slovenia: Tinkara Kovač – Round and round
OK, I have to admit I have a soft spot for this one. It's so so so Eurovision, down to her blue (fairytale evil queen) dress. I simply cannot take the tune off my head in the last ten days or so; as a result, I cannot be really objective about it. What I can say is that the stage manages a balance between lyricism and excitement and that Tinkara seems to give consistent good performances. Like most of the artists this afternoon, she looked particularly relaxed (no jury or televoting for this 3rd rehearsal, remember?). I so want it to go through to the final.
15. Romania: Paula Seling & OVI – Miracle
You can tell that Paula and OVI are experienced performers. The song grows on you, too, even if not as instantly catchy as their previous Eurovision effort, 2010's Playing With Fire. The problem is that they try too hard to recapture the same enthusiasm that that earlier entry of theirs radiated. There are many gimmicks, such as the ring-shaped set of keyboards, yet these look quite deliberate and, as a result, the performance lacks cohesion here and there. Having said that, it is still a sweet middle of the road Eurovision entry, it will perform last in tonight's second semi final and, as a result, it should comfortably qualify for the final.
I believe the ten qualifiers will be:
Norway, Poland, Austria, Finland, Belarus, FYR Macedonia, Switzerland, Greece, Slovenia, and Romania.
I do hope that Israel will prove me wrong and go through, I may add…
This article is based on the writers experience of the dress rehearsal and does not necessarily express the opinion of EuroVisionary.com.