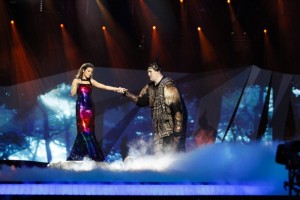 Ukraine's first rehearsal on Monday raised a few eyebrows when she was carried on stage by one of her country's tallest men.  We saw the eagerly awaited second rehearsal a short time ago and it didn't disappoint.  How has it changed?
Zlata's stage show was revealed a little more this afternoon and a few changes had been made from the first rehearsal.  Most strikingly were some of the outfits.  Zlata had done away with the cream dress and now wore an iridescent metallic floor length dress, shimmering in red, blues and greens.  She could therefore be wearing either dress next week.
The giant who carries her on stage is now also in costume. His outfit is medieval or celtic in design, and he has a large feather headdress.  As he walks on stage, the camera shakes ever so slightly and switches to black-and-white whenhe steps.  It's all very effective.  We also see large amounts of dry ice that glimmers gold in parts.
Zlata's four backing singers are in long dark outfits and spend a lot of the song modestly in shadow. The backdrop is the same as Monday.  It's forest in various colours, reminiscent of the passing of time.  We see butterflies appear when Zlata refers to them in the song.
Overall, they have put a lot of work into this and it will probably pay dividends next week.