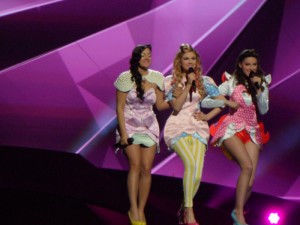 The beautiful girls from Moje 3 from Serbia took to the stage for the second  rehearsal run through.  The girls give a lively interpretation of Ljubav Je Svuda with the very effective use of strobe lighting.
Mirna, Nevena and Sara are wearing multi coloured dresses with with the of pinks, pearl and grey.  The tops are spotted.  The dresses are short and Nevena is wearing yellow long pants.
There are three backing singers wearing grey/light blue dresses.  Their vocals complement Moje 3's strong voices.  We may remember that Moje 3 all were participants at the Voice of Serbia competition.  This experience has bonded the girls together to form a powerful vocal trio.
The routine on stage is effective too.  The Mirna and Sara each appear to give their side of a story to Nevena as they strut around the stage.  Nevena takes it all in and errupts in to her version of events.  They all come together at the end of the song presumably were they all agree the tale.
The background has a diamond and mountain appearance with lighting that is grey and blue.  The camera side angles are used to full affect as also a camera man goes around the girls to feel their story.
A strong performance by Moje 3 and should see the girls make it to the final.