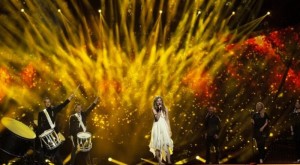 Tonight we will know which ten countries will qualify to the final from the first final. Before we come so far it was however time for a third dress rehearsal this afternoon. This was the last chance for the acts to get rid of the nerves that might still be back.
To give you a perspective EuroVisionary will be covering all three rehearsals for the first semi-final by three different writers with their respective views on what they see.
01. Austria: Natália Kelly – Shine
This is quite a suitable opener being one of those songs, which is hard to dislike. Unfortunately I am not sure either how many will have it as their favourite. Natália's vocals are however quite strong. Only six countries will leave the competition after tonight. Time will tell if Austria is one of them. At the moment I will say it is quite borderline. They might make it, they might not.
See our video from the Austrian performance
02. Estonia: Birgit – Et Uus Saaks Alguse
We move on to one that should be quite sure of a place in Saturday's final. It is a beautiful song delivered in a very simple, but secure way. The smoke on stage matches the song quite well and for moments it actually bring you into dream land.
See our video from the Estonian performance   
03. Slovenia: Hannah – Straight Into Love
All through the past week we have seen Hannah having quite some vocal problems. Yesterday she quite nailed it in the first dress rehearsal, but in the evening jury dress rehearsal she faced several problems with the higher notes. Today she once again had problems, but less of them. This type of music will certainly appeal to a lot of people, but will they look away from the vocal issues?
See our video from the Slovenian  
04. Croatia: Klapa s mora – Mižerja
This song is quite unique and though it might not appeal that wide across Europe, there should be enough fans around to send Croatia to the final. As usual the vocals are extremely strong and they know what they are suppose to do. 
See our video from the Croatian performance 
05. Denmark: Emmelie de Forest – Only Teardrops
This performance is in many ways is similar to the one we saw in the national final with only few changes made. This probably makes Emmelie more comfortable – and today's rehearsal left no doubt that Denmark is contuning to the final – and maybe even to pick up the trophy on Saturday.
See our video from the Danish performance  
06. Russia: Dina Garipova – What If
Another strong contender is Dina from Russia. I can't help feeling though that it is too out dated and the staging of the song doesn't make it any better as I keep wondering if we are back in the late 70's or early 80's. It should however pick up plenty of votes from all around Europe as it is actually quite a beautiful ballad and here voice isn't any problem.
See our video from the Russian performance
07. Ukraine: Zlata Ognevich – Gravity
This is an interesting song. I quite like, but the staging of it simply does nothing for me, aside from actually making me laugh at it. Personally I can't see myself voting for a song that does that; make me laugh. The place in the final should however not be any problem for Zlata to reach. 
See our video from the Ukrainian performance 
08. The Netherlands: Anouk – Birds
Here is one of the songs I am really in doubt about. I can certainly hear the qualities in the song, but I can also feel myself slip off from time to time. The song is quite simple in its stage show, which matches quite well. But I really think it looks ridicilous to hear Anouk singing about birds falling down all while the backdrop shows birds flying up! I believe the Netherlands will qualify this time, but it doesn't appeal to me as a winner.  
See our video from the Dutch performance
09. Montenegro: Who See – Igranka
To be honest then I really do not like this song. I am having a hard time seeing the qualities in this and I don't see the idea behind the performance. Maybe I am just getting too old for this, but I don't see this making the final unless the neighbour votes will bring it there.
See our video from the Montenegrian performance 
10. Lithuania: Andrius Pojavis – Something
It is quite a strong song and Andrius is a good and quite charming performer, the more you see and hear it, that is. I didn't like this at first when it was selected to represent Lithuania here in Malmö, but since then things have changed around. The more rehearsals I see of this one, the more convinced I become of it qualifying to the final. The problem is just the TV viewers who see it for the first time. Is it just me who needed time to see the qualities in it, or will they do as well? 
See our video from the Lithuanian performance
11. Belarus: Alyona Lanskaya – Solayoh
Done before, heard before, seen before – this song is quite a typical Eurovision Song Contest entry. At some point this formular won't work anymore and question is if that is tonight? Her vocals are fine and no doubt that Alyona has realised that she needs to be sexy to make this work. It might just work one more time, but I am not convinced. 
See our video from the Belarussian performance
12. Moldova: Aliona Moon – O Mie
I like the song, I like the vocal and I like the performance – and I love the projections on the dress. This song has so much going for it – and had it been allocated to the second semi-final, which in my opinion, isn't nearly as strong as this first one, then I had been sure of it qualifying. The competition is tough tonight and I am not sure there is space for Moldova.
See our video from the Moldovian performance 
13. Ireland: Ryan Dolan – Only Love Survives
From Ireland we are being served with a charming young guy singing quite a good pop song. Ryan is too young for me, but I am still able to see just how apealing he is – to both sex! Ireland should have no problems sailing into the final with this catchy song.  
See our video from the Irish performance 
14. Cyprus: Despina Olympiou – An Me Thimasai
Another difficult song to predict. No doubt that Despina is an artist with a great voice. She doesn't appear nervous at all on stage, but is instead more confident than most. She has so many things going for her, but does the song? I quite like it and would like to see it in the final. I am just not sure it will go like that. It all depends on whether or not I might have been wrong about one country leaving a place open for Cyprus.
See our video from the Cypriot performance 
15. Belgium: Roberto Bellarosa – Love Kills
Will Ireland's Ryan Dolan have stolen all the points from the teenage girls so that there won't be anything left for Roberto? I actually don't think so. I really like the song and I want to see this in the final. I haven't been convinced so far in this contest, but at today's rehearsal he delivered his best performance ever. If he can keep that up tonight Belgium is for sure in the final. 
See our video from the Belgian performance
16. Serbia: Moje 3 – Ljubav Je Svuda
I don't feel in doubt about this qualifying. It is a catchy pop song and though we know that they are most likely competing for the least suitable outfit in the contest this year, it should be quite sure that we will see them again on Saturday in the final.
See our video from the Serbian performance 
The 10 qualifiers: 
I believe the ten qualifiers will be (in order of appearance) Estonia, Croatia, Denmark, Russia, Ukraine, the Netherlands, Ireland, Cyprus, Belgium and Serbia.
EuroVisionary is recording 2D as well as 3D videos from this dress rehearsal. Subscribe to our youtube channel to be kept updated.
This article is based on the writers experience of the dress rehesarsal and does not nessasairly express the opinion of EuroVisionary.com.