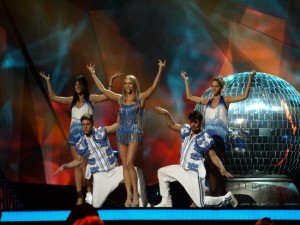 Tomorrow evening we will know the winner of the 2013 Eurovision Song Contest, but half of the result will already be decided this evening. We take a closer look at how the second dress rehearsal, also known as the jury final, went. 
To give you a perspective EuroVisionary will be covering all three rehearsals for the final by three different writers with their respective views on what they see.
01. France: Amandine Bourgeois – L'enfer Et Moi
So, Amandine opens the show for France.  She is looking confident and gives a very competent performance.  She is strutting around and owning the stage. France's record though is not good in recent years at Eurovision. My prediction: 21-26
02. Lithuania: Andrius Pojavis – Something
Some people were surprised at Lithuania making it to the final.  This song is a grower and sounded really good tonight.  Andrius provided a faultless performance. My prediction: 15-20
03. Moldova: Aliona Moon – O Mie
Vocally, Aliona Moon gives a very strong performance.  There is a lot of movement on stage and we have the rising from the platform moment. Great gimmick but it will not help. My prediction: 21-26
04. Finland: Krista Siegfrids – Marry Me
Krista gives another lively show with her entourage on stage. Everybody is having fun. The fun factor is great and we get a kiss at the end again. I think this could do quite well for Finland. My prediction: 11-15
05. Spain: ESDM – Contigo Hasta El Final (With You Until The End)
The bagpipes begin and and creates nice atmosphere. Starts off a little dull and then we go in to an upbeat rock/folk. I do not see this song having mass appeal though. My prediction: 21-26
06. Belgium: Roberto Bellarosa – Love Kills
Belgium has truely raised in every way since arriving in Sweden. Awesome song and performance by Roberto.  Great vocals and girl dancers help the show. This could do very well. My prediction: 6-10
07. Estonia: Birgit – Et Uus Saaks Alguse
Some may think singing in her native Estonian language may be a disadvantage. Certainly not with Birgit's case. An all round charming performance. Lovely melody. My prediction: 11-15
08. Belarus: Alyona Lanskaya – Solayoh
Alyona is looking great on stage. Her confidence is rising. The stage act by Alyona and her team is colourful and lively. We are ready to party. This could well for Belarus this year. My prediction: 6-10
09. Malta: Gianluca – Tomorrow
Here we go with the feel good song from Malta.  Gianluca happy stage presence with his band and backing singers put a smile on all our faces. This should transmit to the viewers at home too. My prediction: 11-15
10. Russia: Dina Garipova – What If
The charming Dina delivers a powerful and emotional show on stage. This song has the 'goosebump' factor. Lovely melody and I think this is going to right up there for Russia. My prediction:1-5
11. Germany: Cascada – Glorious
This is a song to raise your spirits. Everybody is jumping around and having fun to this upbeat dance song. Strong vocals by Natalie. I am not sure the dress suits her but, hey, that is not a problem. Great performance. My prediction: 1-5 
12. Armenia: Dorians – Lonely Planet
Now we have a little soft rock for Armenia. The band give a faultless performance. This may not have the mass appeal to achieve a top placing but the diaspora vote may help a little. My prediction: 16-20
13. The Netherlands: Anouk – Birds
Anouk is a very experienced singer and popular performer. The song is quite atmospheric. There is nothing with the performance. Personally I find the song a little boring. Sorry Anouk fans. My prediction: 16-20
14. Romania: Cezar – It's My Life
Here we go with some huge drama for Romania.  Everything is thrown in to this stage show. I have no idea what it's about but who cares! Maybe the operatics are bit too much but it is a lot of fun.  My prediction: 21-26
15. United Kingdom: Bonnie Tyler – Believe In Me
All Bonnie's years of experience in the pop and rock business come to fruition.  She gives a solid performance on the stage with her band. Maybe the song is not instant enough for the views but I think this will be a better placing for UK this year. My prediction: 11-15
16. Sweden: Robin Stjernberg – You
The hosts now take to the stage.  Robin has a lot to follow after Loreen's success in 2012. But Robin delivers an action packed show with his dancers. Sweden can do well again. My prediction: 6-10
17. Hungary: ByeAlex – Kedvesem (Zoohacker Remix)
Not many people rated the chances of this song before the rehearsals in Sweden.  ByeAlex's song is growing in the minds of many fans now. It seems atmospheric and hits the mood. My prediction: 16-20
18. Denmark: Emmelie de Forest – Only Teardrops
Here we go with the big favourite this year. This song is very popular and catchy. Emmelie gives a great vocal and stage show. Her smiles to the camera add to the over all fun effect. My prediction: 1-5
19. Iceland: Eythor Ingi – Ég Á Líf
A lovely ballad for Iceland. Eythor's vocals are rock solid and emotional. The background lighting add to the songs appeal. It does not matter that the song is in Icelandic. It actually really helps it too. My prediction: 11-15
20. Azerbaijan: Farid Mammadov – Hold Me
Another song emerging as a possible favourite. Farid's stage show with the male dancer mirroring his moves in a box are very effective. Strong vocals and anthemic chorus will make this a possible winner. My prediction: 1-5
21. Greece: Koza Mostra feat. Agathon Iakovidis – Alcohol Is Free
The lively Greek song now and everyone is jumping up and down and having fun.  If alcohol was free we would be drinking a lot now! Positive vibes. My prediction: 11-15
22. Ukraine: Zlata Ognevich – Gravity
Right from the moment the gentle giant releases Zlata from his arms the song takes on anthemic appeal.  Charming and beautiful performance from the elegant Zlata.  This song will also do very well. My prediction: 6-10
23. Italy: Marco Mengoni – L'Essenziale
Effortless and elegant performance from Marco.  Emotive ballad that can melt many hearts but will it register with a lot viewers listening for the first time. That could be Italy's only problem. My prediction: 6-10
24. Norway: Margaret Berger – I Feed You My Love
Margaret looks stunning in her white dress.  She rocks the audience with a marvellous performance.  The lighting is also very effective with this. This could also do very well. My prediction: 1-5
25. Georgia: Nodi Tatishvili & Sophie Gelovani – Waterfall
Now to Georgia and the final ballad of the evening. But what a ballad. It builds and builds to a big anthemic chorus.  Nodi and Sophie make a great team. The hairs on your arms rise as it gets closer to the finish. Super. My prediction: 6-10
26. Ireland: Ryan Dolan – Only Love Survives
What a great way to close the songs. A really lively and catchy song for Ireland. Ryan and his team on stage are having a fun time. Lots of percussion makes us want to dance and then we have the catchy chorus. My prediction: 6-10 
I believe the winner will be among these 5 countries: 
Denmark
Norway
Azerbaijan
Russia
Germany 
EuroVisionary is recording 2D as well as 3D videos from this dress rehearsal. Subscribe to our youtube channel to be kept updated.
This article is based on the writers experience of the dress rehesarsal and does not nessasairly express the opinion of EuroVisionary.com.