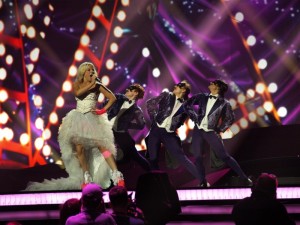 Two semi-finals have been held – and today it was time for the 26 qualifiers to rehearse the final show for the first time. Who is in it with a chance to win and who should be happy just to have reached the final? We take a closer look at the winning candidates after first dress rehearsal.
To give you a perspective EuroVisionary will be covering all three rehearsals for the final by three different writers with their respective views on what they see.
01. France: Amandine Bourgeois – L'enfer Et Moi
France has the honour to open this year's Eurovision Song Contest. Amandine gives a very powerful performance of her song. In the past France struggled to reach good results. How will end up this one? My prediction: 21-26
02. Lithuania: Andrius Pojavis – Something
Lithuania was one of the surprises of the first semi-final because not a lot of people expected it to qualify for the final. Today Andrius appears to be very relaxed on stage. My prediction: 21-26
03. Moldova: Aliona Moon – O Mie
Another very good and strong rehearsal by Aliona. Her ballad is very smooth, but building up to the end. Aliona comes across the screen very sweet. My prediction: 11-15
04. Finland: Krista Siegfrids – Marry Me
We just heard Marry me in last night's semi-final. Of course the performance has not changed since then. Krista is in a good mood and performs the songs well. Nevertheless this is a love or hate song. My prediction: 16-20
05. Spain: ESDM – Contigo Hasta El Final (With You Until The End)
Lead singer Raquel has changed her dress once more. After wearing a white dress during the last rehearsal she went back again to the yellow one she had already worn during the first rehearsal. Her vocal performance is good, but the song is going nowhere without any climax. My prediction: 21-26
06. Belgium: Roberto Bellarosa – Love Kills
The Belgian delegation was very happy to be back at a Eurovision final again. In this rehearsal Roberto delivered again a solid performance, but he still comes across the screen a bit unsecure und lacks a bit of charisma. My prediction: 21-26
07. Estonia: Birgit – Et Uus Saaks Alguse
Personally I have to admit that I was surprised to see Estonia in the final, but after watching her rehearsal I think she deserved it. Birgit's performance is very sweet and confident. She shines on stage. My prediction: 11-15
08. Belarus: Alyona Lanskaya – Solayoh
Solayoh is one of the catchiest songs in this year's line up. During today's rehearsal Alyona's voice did not sound that strong. During the second voice it was mostly the backing singer we could hear. Let's hope for Alyona and her team that they can improve it for tomorrow night. My prediction: 21-26
09. Malta: Gianluca – Tomorrow
Gianluca's trademark is that he always appears very happy on stage which is also carried across the screen. Some say this could be the huge surprise for tomorrow night. My prediction: 11-15
10. Russia: Dina Garipova – What If
Dina and her backing singers did this rehearsal in casual clothes. Vocally they sounded perfect again. This performance should give Russia a very high position again. My predicition: 1-5
11. Germany: Cascada – Glorious
Just like the Russians Natalie did her rehearsal in casual clothes as well. During the last days Germany have become one of the favourites as well. After facing some vocal problems during Wednesday's rehearsal Natalie sounds very well again. My prediction: 6-10
12. Armenia: Dorians – Lonely Planet
Lots of people did not expect Armenia to reach the final, so it was some kind of a surprise yesterday that they did so. During this rehearsal they gave a solid performance again. My predicition: 16-20
13. The Netherlands: Anouk – Birds
After 2004 The Netherlands finally made it back to a Eurovision final. Anouk delivers again a flawless performance and we should watch out for her tomorrow night. This will certainly be one of the jury's favourites. My predicition: 6-10
14. Romania: Cezar – It's My Life
The Romanian entry appeared to be one of the least loved ones. Nevertheless enough people voted for it in last night's semi-final so that they are in the final again. Cezar's vocal performance cannot be criticized at all. My predicition: 16-20 
15. United Kingdom: Bonnie Tyler – Believe In Me
The British hopes are all on Bonnie Tyler this year. On stage she shows all her experience and her vocal performance is close to perfection. Still the song does not appear to be strong enough as it lacks to have a climax. 
My predicition: 16-20 
16. Sweden: Robin Stjernberg – You
This year's host nation is represented by young Robin Stjernberg. Robin has improved his performance since the first rehearsal a lot so that the chances to end up in a good position should be given again. My prediction: 6-10
17. Hungary: ByeAlex – Kedvesem (Zoohacker Remix)
Kedvesem comes across the screen very simple and sweet which makes the whole performance very sympathic. The Hungarians were already very happy to reach the final. How will their song end up there? My prediction: 11-15
18. Denmark: Emmelie de Forest – Only Teardrops
By the Swedish press Emmelie is already regarded as the winner. Her performance is like always very solid and in the meantime Emmelie has also learned how to smile into the camera. My predicition: 1-5
19. Iceland: Eythor Ingi – Ég Á Líf
Just like during the previous rehearsals Eythor gives a solid performance of this ballad again. There is nothing one can criticize, but as there are lots of ballads in this year's line up this one might be too simple to score a good result. My prediction: 21-26
20. Azerbaijan: Farid Mammadov – Hold Me
Since their first appearance at the Eurovision Song Contest in 2008 Azerbaijan have always managed to achieve a top 10 result. This should work out this year agai. Farid and his team give a very good vocal performance combined with an extraordinary choreography. My predicition: 1-5
21. Greece: Koza Mostra feat. Agathon Iakovidis – Alcohol Is Free
Greece was the last country that was annouced as a qualifier for the final. The Greek artists deliver a happy and cheerful performance again. But will Europe understand their message and vote for this kind of song? My predicition: 16-20
22. Ukraine: Zlata Ognevich – Gravity
Another strong effort from Ukraine. Zlata belongs to the favourites to take away the Eurovision crown. Still the opening scene with the giant carrying Zlata on stage might appear too weird for some viewers. My predicition: 6-10
23. Italy: Marco Mengoni – L'Essenziale
As Marco has done all rehearsals in casual clothes there is still a big secret about his final stage outfit. Today he is dressed in a green/blue coloured suit and he finally shaved his face. Vocally he is very strong again and should score high with the juries. My predicition: 6-10
24. Norway: Margaret Berger – I Feed You My Love
Last night's performance in the semi-final seemed to be Margaret's strongest so far. Today she could repeat her good effort. As the songs stands out because of his style we should out on this one tomorrow night. My prediction: 1-5
25. Georgia: Nodi Tatishvili & Sophie Gelovani – Waterfall
Another flawless performance by the Georgian duo. The song as well as the performance has everything that a winning performance demands. But will Europe go for a song like this only two years after a similar performance by Ell & Niki? My predicition: 1-5
26. Ireland: Ryan Dolan – Only Love Survives
Ireland was put last in this year's running order. The song has been played on several parties during the last week and is one of the most popular among the fans. Ryan's performance was very strong today. If he can repeat this tomorrow night it should give Ireland another top 10 result again. My predicition: 6-10
I believe the winner will be among these 5 countries: 
Denmark
Norway
Azerbaijan
Georgia
Russa
As there is no country from the former Yugoslavia in this year's final it will be interesting to see how they will vote. I think this will be essential at the end.
EuroVisionary is recording 2D as well as 3D videos from this dress rehearsal. Subscribe to our youtube channel to be kept updated.
This article is based on the writers experience of the dress rehesarsal and does not nessasairly express the opinion of EuroVisionary.com.