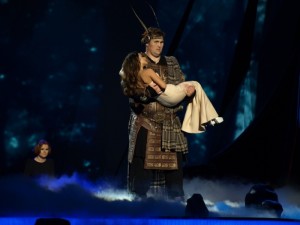 Today it was time for the very first dress rehearsal in this year's Eurovision Song Contest. We are of course starting with the first semi-final. Which 10 songs will qualify and which 6 must go home?
To give you a perspective EuroVisionary will be covering all three rehearsals for the first semi-final by three different writers with their respective views on what they see.
01. Austria: Natália Kelly – Shine
Young Natália has the honour of opening this year's Eurovision Song Contest. Despite her young age her voice is amazingly strong. At the beginning she comes across the camera a bit scared, but managed to get more confident during the song. A very good opener.
02. Estonia: Birgit – Et Uus Saaks Alguse
Next on stage is Estonia's Birgit. She delivers a very confident performance of this ballad. Nevertheless the song appears a little bit too monotonous and oldfashioned and as there are several ballads in this year's competition it might be hard for Estonia to qualify for the final again.
03. Slovenia: Hannah – Straight Into Love
Straight into love is one of few uptempo songs in this year's line up. This should increase the country's chances to qualify for the final. Hannah's vocal performance is better than in the previous rehearsals. With a performance like this Slovenia is a possible qualifier. If Hannah struggles again, it should become difficult.
04. Croatia: Klapa s mora – Mižerja
Croatia has not reached a Eurovision final since 2009. Will they manage to do so with Klapa s mora? The vocals harmonize perfectly and it is a very smooth performance. But I still see a big question mark if the rest of Europe will vote for Croatian Klapa music.
05. Denmark: Emmelie de Forest – Only Teardrops
Emmelie is the big favourite not only to reach the final, but also to get the Eurovision crown. Her rehearsal went fine, vocally she was very good. Nevertheless the performance becomes a bit boring to me towards the end. Denmark will qualify for the final for sure, but will it also be enough to take the Eurovision Song Contest back to Copenhagen?
06. Russia: Dina Garipova – What If
Since the introduction of the semi-finals Russia has always reached the final. There is no doubt they will also do so this year with Dina giving a very sweet and strong presentation of this classic ballad.
07. Ukraine: Zlata Ognevich – Gravity
Just like Russia the Ukraine has been a sure qualifier in the previous years as well. Zlata had to interrupt her rehearsal soon after the start because she seemed to have some problems with the sound. After a re-start everything went fine and it should be a wonder if we won't see Zlata again on Saturday night.
08. The Netherlands: Anouk – Birds
Calling Russia and Ukraine all-time qualifiers it is almost likely to call the Netherlands an all-time non qualifier. Since 2004 the country is desperately waiting for another participance in a Eurovision final. Will Anouk be able to take the Dutch back to the final? Her performance is very professional and the song should at least score high with the juries. 
09. Montenegro: Who See – Igranka
Since their first participation Montenegro has been waiting to qualify for a Eurovision final. This year it seems unlikely again because the song Igranka and the whole presentation are simply too special. They might have a small advantage to perform with their loud and lively entry after three ballads in a row.
10. Lithuania: Andrius Pojavis – Something
In the past Lithuania has often been a surprise qualifier, so maybe they are lucky again this year. Their big advantage is to be one of the few countries who have an uptempo song. Nevertheless Andrius appears a bit insecure and uninspired on stage.
11. Belarus: Alyona Lanskaya – Solayoh
Solayoh is for sure one of the most catchiest entries in this first semi-final which makes them a strong contender for one of the spots in the final. The choreography with lots of dancing, flic-flacs and pyrotechnics is one to watch out, even if poor Alyona comes across the screen as a bit stiff in some parts.
12. Moldova: Aliona Moon – O Mie
Moldova's entry is a big contrast to the lively one from Belarus before. Aliona performs this sweet and harmonic ballad with lots of passion which should give the country at the Black Sea a spot in the final again.
13. Ireland: Ryan Dolan – Only Love Survives
The Irish entry has become one of the fan favourites during the last week. For sure the song is very catchy. Ryan's voice does not sound very convincing today, especially with the high notes. Still Ireland is a strong candidate to reach the final again.
14. Cyprus: Despina Olympiou – An Me Thimasai
Despina delivers a touching and flawless performace. For sure she would deserve it to be in the final, but in the flood of ballads this year this should not be easy to achieve.
15. Belgium: Roberto Bellarosa – Love Kills
Since the introduction of the semi-finals Belgium only qualified once. Prior the contest Roberto was expected to be one of the candidates to fail to reach the final. During his rehearsals he has improved a lot, his song his catchy, so maybe he will stand out a chance.
16. Serbia: Moje 3 – Ljubav Je Svuda

Moje 3 deliver a very sweet and colourful finish of this first semi-final. Vocally they are flawless and their song is very catchy. Not only because of the high number of Ex-Yugoslav countries in this semi this should qualify for the final.
The 10 qualifiers: 
I believe the ten qualifiers will be:
Austria, Slovenia, Denmark, Russia, Ukraine, The Netherlands, Belarus, Moldova, Ireland and Serbia.
EuroVisionary is recording 2D as well as 3D videos from this dress rehearsal. Subscriobe to our youtube channel to be kept updated.
This article is based on the writers experience of the dress rehesarsal and does not nessasairly express the opinion of EuroVisionary.com.