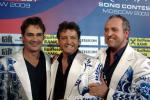 Day 4 saw the remaining participants from the second semifinal rehearse for the first time, followed by the obligatory press conference. Slovenia were the early risers this morning, Dutch group, De Toppers brought the day to a close.
Quartissimo were keen to show their musical skills, starting their conference with an acoustic version of Love Symphony. When the perhaps inevitable comparisons were made with 1995 winner, Nocturne, they offered to play that as well, but were stopped by the host of the conferences. They did this to show that, despite the necessity to have pre-recorded music for the contest itself, they are real musicians.
The Hungarian conference predictably covered the fact that Zoli was the third choice, the first two artists chosen by MTV having withdrawn for various reasons. Zoli didn't seem to mind too much, "There were two other entries who stepped back, I was then chosen, and I'm here to do my best and represent my country." Zoli also regards participating in the contest as the highlight of his career so far, "This is the biggest challenge of my life, I worked in musical theatre for 15 years. I only actually started singing at age 24, and I'm 33 now. My first album was published last year. Participating in the Eurovision Song Contest, it's a huge chance to get some connections from abroad"
At the start of the Azerbaijani conference, a video was shown of AySel and Arash's time in Moscow so far. AySel said that in her childhood, she frequently played on an 18th century German piano. AySel and Arash have become good friends since they started working on their participation in the contest. Speaking about the fire effects used during the performance, AySel said "We knew that the fire would come, but we forgot about it. "When it came I was so afraid that my hair would burn that I jumped to the sky and down!"
One of the most anticipated conferences was that of Greece. It heralded the return of Sakis Rouvas, who represented Greece in 2004, and hosted the contest in 2006. He said that it means more to be the singer. He isn't nervous, just excited and relaxed.
Lithuania's Sasha Son spoke of the time he spent in London when he was younger, "I loved it in London, the music business is huge there. I really like Leona Lewis of the new artists. I had a chance to work with some top professionals whilst living there, and was offered a development deal. It gives me a lot of encouragement that I can go forwards. There are a lot of opportunities for young people in London if you have talent. The Eurovision Song Contest in Moscow now for me is a good platform for development as I see it."
Nelly Ciobanu was asked why she had performed at the Moldovan rehearsal in bare feet. She explained that it was because she was worried about the slippery floor, and her shoes would be prepared to cope with it for the second rehearsal. She also talked about the Hora dance, saying that it is a demonstration of peace and friendship.
Kejsi Tola from Albania is one of the youngest singers competing in this year's Eurovision Song Contest. She revealed that ye preview video was filmed in Munich and that the crew were in the snowy outdoors for seven hours. Talking about her age, she said "I don't have a very long career, but I don't think that the age is what's important here. I'm very proud that I get to represent my country in the contest."
In case anyone was in any doubt as to who they were listening to at the next conference Svetlana Loboda entered the room with two Ukrainian flags, and her dancers waved the flags throughout the conference. Her stage performance includes dancing in and around three 'hell machines'. The original plan was to descend on to the stage in one of them. This had been turned down due to lack of space above the stage.
The Estonians were asked about the meaning of their song, Rändajad. Sandra Nurmsalu, the lead singer, explained that "The song is about travellers, about all people; we all travel and walk on the road travelled by ourselves. We can travel whichever path we choose."  They arrived in Moscow yesterday and their first impressions are positive. The delegation was also asked if they could do anything on stage as crazy as the Ukrainians. Heidy Purga, the Head of Delegation answered, "Sure, don't you remember our performers, Kreisiraadio, last year?"
Not taking themselves too seriously, De Toppers set out to entertain everyone at their conference. They told jokes and performed a big band version of Shine. You can watch the video of this version, recorded by Eurovisionary, by following the link below. As they were distributing the press pack, they remarked, "You can send it to someone you really hate!" They were asked what their secret for happiness is. "It depends on your bank account", came the reply from Gordon.
As well as watching the very entertaing De Toppers, you can see photos of their pres conference, as well as photos from other conferences by clicking the links below, or visiting our Photo Albums section. 
Links
De Toppers Big Band version of 'Shine'
Greece press conference
Azerbaijan press cpnference
The Netherlands press conference