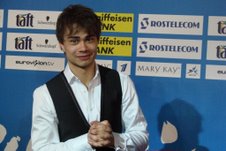 Tuesday saw the first rehearsal for seven of the countries participating in the second semifinal. Croatia got the ball rolling and Denmark rounded things off.
Igor was asked why he gave up studying Theology to begin a career in pop music. He said that it is now his sole ambition to become a pop star, but this does not go against his religious beliefs. Tonči Huljić, one of the songs composers, thinks that it is a disadvantage to have to perform first under the televoting system.
Ireland will perform second in the semifinal. Overall, they were happy with the rehearsal but feel there are a couple of problems with cameras and sound to be solved. The group is looking forward to their relatives flying to Moscow to cheer them on, and revealed that they have a record deal with Sony Music, which they hope will help their careers.
Much interest in the Latvian conference centered on the decision to sing in Russian. "We are singing in Moscow, so that's why in Russian. The song itself was actually originally written in Russian. There were a lot of battles in Latvia about our decision to sing in Russian. I think it's a good decision to sing in Russian here, and a lot of Latvians are supportive and like it.", Intars said. To end the conference, Intars was asked who he would have supported had he not won the national selection. His reply was "We in Latvia were so popular that we had to win. We would have won all the same, so it's not an issue for discussion!"
Polish representative Lidia Kopania stated that her song is in English because the writers are German and English, although there will be a Polish version released at a later date. Press conferences can often be an opportunity for nauseating statements, and the award so far goes to Lidia for saying that she had once wanted to become a doctor, but she was a kind of doctor at the moment, as her songs can heal wounds of the soul!
Bookmaker and fan favourite, Norway, was next and Alexander generated a lot of media interest. Where did the idea for the song come from? "I was on vacation in the Norwegian countryside last summer. While I was walking around, I decided to take a break and took out my violin and played a tune, I started working a little bit more on it and it developed from there. It was never a plan to become part of Eurovision in the beginning. It was only during the development of the lyrics and text I got the idea." Does being the favourite make him feel more pressure? "I feel pleasure not pressure about this, it says something about people liking our song, it will make me smile and be happy on stage. It doesn't mean that I am going to win."
The Cypriot song was written by the singer, Christina, and her brother, Nikolas. The song, Firefly, was inspired by Christina. Nikolas said ""Christina is shy and sensitive and she often needs an extra push to take risks in her life and pursue her dreams, as all teenagers do. Firefly tries to tackle the insecurities and doubts that people often have and give them a motive to take a 'leap of faith'." Christina said that she and her brother are very close and plan to work together in the future.
The Danish song was co-written by Ronan Keating and there was much interest among the assembled media, one of whom wondered if Ronan would be joining Brinck on stage. Well, Ronan is very busy at the moment with his very successful album, but he has said that he will come here to support us if we make it through the Semi-Final. That would be more of a supporting role rather than on stage though." Brinck said. And how did Ronan become involved in the first place? "As for how he came to write it for Denmark, he may have heard of a Danish artist called Brinck and thought that guy can sing!. Seriously, it was actually recorded originally for Boyzone's new album but it didn't make it there and the other co-writers from Denmark submitted the song for the Eurovision Song Contest."
You can see photos from some of the press conferences by clicking the links below, or by visiting our Photo Albums section.
Links
Ireland's press conference
Poland's press conference
Latvia's press conference
Norway's press conference
Denmark's press conference