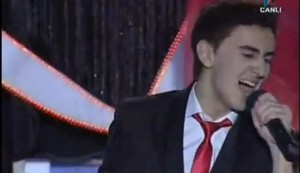 The last heat of the year was held tonight in host country's national final, Milli Seçim Turu 2012. As usual, nine participants fought for the fifth ticket to the semi-finals where Elton İbrahimov joined the previous winners, Orhan Kerimli, Meryem Kerimova, Hayyam Mustafazadeh and Feqan Seferov.
The fifth and the last leg of the year in Azerbaijan's national final selection process has ended with tonight's show. The show was presented by one of our famous hosts in Milli Seçim Turu, Leyla Aliyeva, as usual and of course broadcast by the national corporation, İçtimai TV. Nine participants in total showed their skills over five days in different music styles each night. Unfortunately, only one name could make it to the next step in the selections, the semi-final.
Before tonight's show began, the results of the week were frequently changing in each night. The latest results in the scoreboard were:
•    Günay Ahmedova – 3540 votes
•    Elton İbrahimov – 2073 votes
•    Aydın Eyvazzadeh – 2048 votes
•    Yan Kaşepava – 754 votes
•    Samir Memmedov – 460 votes
•    Azad Şabanov – 292 votes
•    Süleyman Ağakişiyev – 289 votes
•    Fidan Hüseynova – 199 votes
•    Elnara Kazımova – 122 votes
The viewers, to be realistic, most possibly would hear one of these three names qualifying to the final; Günay Ahmedova, Elton İbrahimov or Aydın Eyvazzadeh. But no-one would guess that more than 1500 votes could count nothing. Our participants of the week knew this was their last chance to secure the seat in the semi-finals when they gave their best on the stage. Differently from previous nights, they also gave their best New Year wishes to their fans.
After the performances of the week, the votes were announced from last position to top. The latest results were collected after each day's results with the combination of jury and televoting, 50/50. Then the final shape of scoreboard came out as:  
2 points:   Süleyman Ağakişiyev
3 points:   Yan Kaşepava
4 points:   Samir Memmedov
5 points:   Elnara Kazımova
6 points:   Fidan Hüseynova
7 points:   Günay Ahmedova
8 points:   Aydın Eyvazzadeh
10 points: Azad Şabanov
12 points: Elton İbrahimov
The final results were totally surprising for everyone no matter how many points difference they had before the show. Azad Şabanov climbed to the second place from sixth as well as Elton İbrahimov overtaking Günay Ahmedova, who unfortunately fell back to the fourth position despite leading with a huge points difference until tonight's show.
With the results of the third heat, the Azeri Milli Seçum Turu's semi-final heat now looks like: 

1st heat: Orhan Kerimli
2nd heat: Meryem Kerimova
3rd heat: Hayyam Mustafazadeh 
4th heat: Feqan Seferov
5th heat: Elton İbrahimov
The sixth heat will start on the first Monday of the 2012, with the World Music theme and of course with the new participants. The show will start at 18.00 CET (21.00 with local time) and will be aired by İçtimai TV via satellite and web. Below you can watch the closing ceremony of heat five: