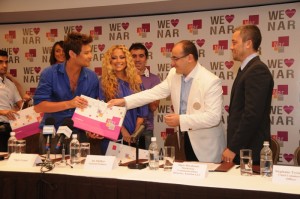 The Azeri winners of this year's Eurovision Song Contest, Eldar and Nigar, have signed a deal with a worldwide company to appear on their advertisements.
The worldwide telecommunication company, Vodafone, known in Azerbaijan as Nar Mobile, is one of the best known telecommunication companies and is trying to build its business by moving into Azerbaijan. In order to give the advertising campaign a lift, Eldar and Nigar, who won the Eurovision Song Contest this year in Düsseldorf, have been chosen to advertise this new company
The first advertorial programme has already been appearing on many channels in Azerbaijan, promoting the cheapest 3G contracts ever in this country. Below you can watch the first shooting of the advertorial programme from Eldar and Nigar.