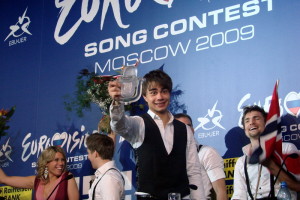 As promised a couple of days ago, the European Broadcasting Union has released the complete results from this year's contest. This means that we can now see how the public voted, and how the juries voted.
The juries consisted of industry professionals and were reintroduced in an attempt to reduce the effect of perceived political voting and neighbourly voting. As might be expected, some countries benefited from the juries influence, some lost out, while it made absolutely no difference to others.
France was the biggest beneficiary of the 'expert' opinion. If the result had been purely down to the public, Patricia Kaas would have finished 17th. Because the juries placed her fourth, her final position was lifted to eighth. Albania was the biggest loser. Had the juries not been involved, Kejsi Tola would have finished 11th. However, the juries ranked her 23rd, so she finished 17th. Among the countries for whom it made little difference was Portugal. Both the public and the juries ranked Flor-de-Lis tenth, and the group finished 15th. Winners Norway finished top in both votes and of course went on to win the contest by a massive margin.
The full results can be viewed by clicking on the link below.
Links