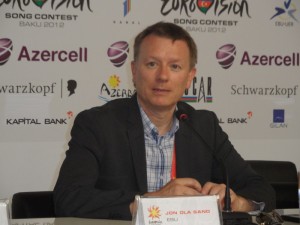 EBU hosted a press conference in Baku today and provisional dates for the 2013 Eurovision Song Contest were announced. The semi finals will be on 14 and 16 May and the final on 18 May 2013.
A number of points were raised first starting with this is the first time the contest is held in Azerbaijan.  The Crystal Hall in Baku was only finised a couple of weeks before the rehearsals started for the 2012 Eurovision Song Contest.
There was a welcome back to Montenegro and it is hoped Armenia and Poland will return next year to the contest.
Televoting will be cut back to 15 minutes after the final song has been performed.
There were diverse results between televoting and jury after last night's first semi final.  8 songs were agreed but one qualified on televoting and one from the jury.
Albania did not broadcast the show live last night due to a tragic bus accident in the country.
Armenia will broadcast the show on Saturday evening. This is part of the conditions for returning to the contest next year.
Viewing hits on the official site, eurovision.tv, are up 80% on last year and also over a million tweets have been received on Twitter.
The EBU are working on an archive project with all song hopefully being made available to view with the exception of 1956.
EuroVisionary.com advised the website is the first to record rehearsals and interviews in 3D format this year. EBU said there are no plans to broadcast the Eurovision Song Contest in 3D at this time.