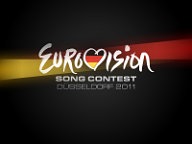 About 4 weeks after Düsseldorf's appointment as the host city of next year's Eurovision Song Contest, the city has started its preparations. At first, they began to search for voluntary helpers who should be responsible for a warm and friendly welcome of all guests.
These volunteers shall also accompany bigger groups and give them information about Düsseldorf. They are supposed to wear a special outfit to be visible for the visitors, tourists and the delegations. So far, there have been more than 500 applications for this job.
Last week, Düsseldorf's mayor, Dirk Elbers, visited Oslo, the venue of last year's Eurovision Song Contest. He wanted to find out how the city organised the event and to collect ideas. Elbers wants to have a huge programme during the two weeks of Eurovision. He plans to build up stages at different places all around the city where different kinds of music shall be played. Furthermore, it is also important to him to prepare a well-working security concept.
It was reported that there will be seven live shows. The arena will not only be open for the semi finals and the final, it is also possible to watch the four dress rehearsals. Tickets shall be available from €19 upwards, including a ticket for the public transport.
To offer the best possible infrastructure, the city has decided to stop all bigger building sites from May 1st until May 14th. This should avoid traffic jams as at the same time there will be the biggest package fair, Interpac,k with about 180.000 visitors. This fair is also one reason for the high hotel rates. A lot of hotel rooms are already reserved for visitors of the fair. As an alternative, visitors of the Eurovision Song Contest can also look for hotels in the surrounding of Düsseldorf, such as Duisburg, Essen, Ratingen, Mönchengladbach, Neuss or even Cologne. From these cities the venue can be reached by train and underground within 30-60 minutes.