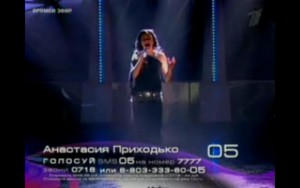 On the same day as Georgia officially was told to either change the lyrics of their entry or pick another song medias are now stating that the Russian entry does not meet EBU's rules either as it has been performed the 1st of October. The song found its way to Russia after being rejected for the Ukrainian national final due to break of rules. 
Today EBU officially confirmed that the Georgian entry We Don't Wanna Put In by Stephane & 3G does not live up to the rules for the 2009 Eurovision Song Contest. Only six days before all 43 countries officially will be presented to the European Broadcasting Union the question is now if the Russian entry is in danger of breaking the rules as well.
Anastasia Prikhodko won the Russian national final with the song Mamo which is partly sung in Ukrainian. It is now reported that the song was stopped from taking part in the national final in Ukraine as it breaks with three rules, two of them set by the Ukrainian broadcaster and one set by EBU:
The song is longer than three minutes
The version submitted to the Ukrainian selection was in Russian
The song has been performed before the 1st of October, which is in direct violation with EBU's rules
Anastasia Prikhodko was not satisfied with being rejected for the national selection in her home country, Ukraine, and has complained directly to the country's president Viktor Yushchenko as well as made aware of that she is willing to take legal actions against the local broadcaster. Vasil Ilashchuk, organiser of the Ukrainian national final, is quite calm about the reaction from Anastasia; "The song violated every rule that could be violated".
It is not yet known if it is right that the song was performed before the 1st of October, but if it is proven to be the case it will be disqualified from competing at the 2009 Eurovision Song Contest. Other sources are also indicating that the medias might be mistaken about her Russian entry and is mixing it up with another song of hers.