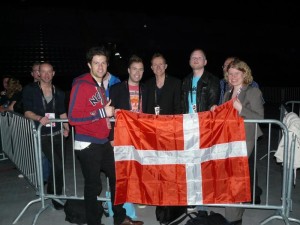 The Norwegian participant Didrik Solli-Tangen watched the first Danish rehearsal and afterwards he came to meet the Danish press and fans who had seen it as well. Denmark is his favourite to win this year's Eurovision Song Contest.
Despite technical problems during the Danish rehearsal Didrik still believes that it will be Chanée & N'evergreen who can take home the trophy this year. 
The Norwegian commentator and host of several national finals, Per Sundness was however not convinced. Where Didrik is convinced that next year's Eurovision Song Contest is going to be held in Denmark then Per believed there were many others who could win the whole thing Saturday the 29th of May. 
Many fans and journalists are in agreement with Didrik as Denmark is a country that is more and more being mentioned as a favourite and currently they are number two in a voting arranged here in the press centre. Azerbaijan is the favourite at the moment, but it has been changing several times between the two countries.