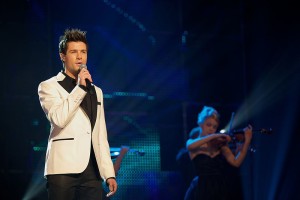 Norway got their chance to rehearse for the final. The arena was full of Norwegian visitors and they weren't the only ones wowed by a solid performance from Didrik.
They have the black drapes used by Latvia and Belarus and are lit to look golden. There are three female backing singers dressed in purple and two males dressed in black. Didrik himself has a gunmetal silver suit and open neck shirt.
The camerawork is simply fantastic with short perfectly complementing what comes both before and after. The lights are used very effectively. The set as a whole looks like a good Il Divo video which is no mean feat.
This performance was polished and Norway should be able to get into the top 5 at the very least. I still think that the rapturous reception that this will get in the hall could just push it into first and it could be Oslo 2011.