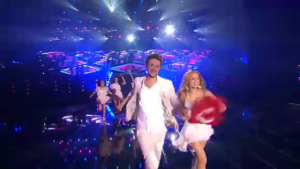 Two weeks after winning the 2011 Eurovision Song Contest people are still discussing whether or not Azerbaijan only won as a result of Turkey not making it to the final. And why did the winning couple run on stage waving the Turkish flag instead of the Azerbaijani one?
Everything started Tuesday the 10th with the suprising revelation of the results: Turkey unexpectedly did not make it to the final. Another country, Armenia that is well known to have strong diaspora alsop joined them. And then it all ended with Azerbaijan winning the 2011 Eurovision Song Contest. Was it the Turkish diaspora voting that gave the victory to Azerbaijan? Let's have a look what happened in Turkey that night:
Before the final, Eldar and Nigar gave an interview to Turkish broadcaster TRT where they also considered the failure of Turkey in that first semi-final. They told that they will be representing not only Azerbaijan, but also Turkey, and even all Turks around Europe. 
During recaps in the final show TRT's commentator, Bülend Özveren asked for the Turkish votes from all over Europe to be cast to Azerbaijan. And when it was clear that Azerbaijan had won he expressed: "Iam so proud that another Turkish country won the contest". As he said that the Azerbaijani couple walked on the stage holding the Turkish flag. In Turkey many news channels such as TRT News, CNN Turk, HaberTurk and TGRT Haber reported the result of the event as the 'flash news' taking their pride in Azerbaijan's winning as if had been Turkey themselves.
Let's take a look at some countries where Turkish diaspora has been quite strong in recent years:
United Kingdom is the one of the top countries where people vote for Turkey: 12 points in 2007, 10 points in 2008, 12 points in 2009 and 10 points in 2010 and 44 points total in the past four years. Azerbaijan got nothing from this country this year.
There are more than 3 millions Turks are living in Germany who traditionally consistently vote for Turkey. We have seen no less than 10 points in the last eight years. Azerbaijan again got nothing from this country.
Turkey has received maximum points from France for the last 5 years, with the exception 2006. And Azerbaijan got 6 points from France this year.
Bulgaria, also a neigbour of Turkey, has awarded 10 points on average to Turkey each year; Azerbaijan received nothing this year.
Denmark, Austria and Switzerland are the countries of Northern Europe where people normally award Turkey high votes. Azerbaijan gets 8 points from Austria, 1 point from Switzerland and nothing from Denmark.
Bosnia & Herzegovina and F.Y.R. of Macedonia are well known for their strong ties with Turkey, with these countries on average awarding 8 points. Bosnia & Herzegovina also awarded 8 points to Azerbaijan whereas they got nothing from the Macedonians. 
Considering these voting data, it is impossible to conclude that Azerbaijan won solely due to the Turkish diaspora – just as it is might be hard to understand how they won at all as they only recieved maximum 12 points from three countries; Malta, Russia and of course Turkey. Runner up Italy got the maximum from four countries. This year the contest was simply so open and the points so spread that it basically had to come down to luck at the end. 
What might be hard to understand is the close relationship between Turkey and Azerbaijan. They don't consider each other neighbours, more another region in their own country. It all comes back to the Ottoman empire and when Azerbaijan gained independence from the Soviet Union in 1991 they focused their attention towards Turkey, a country which has a large minority living in Azerbaijan. Those two countries are together with Kazakhstan, Kyrgyzstan, Turkmenistan and Uzbekistan the six independent Turkic countries. When Eldar and Nigar ran on stage with the Turkish flag then they did so to symbolise the victory of a another Turkic country. One might then argue that if it wasn't first and foremost an Azerbaijani victory why do both countries participate in the Eurovision Song Contest?